Senior Vice Provost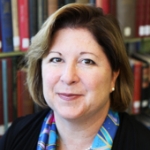 Shirley McGuire, Ph.D.
Senior Vice Provost of Academic Affairs
Professor of Psychology
University of San Francisco
Shirley McGuire is Senior Vice Provost of Academic Affairs and Professor of Psychology at the University of San Francisco. She supports university initiatives to enhance academic excellence. Dr. McGuire is responsible for university accreditation, curricular development and assessment, global education, contracts and grants, and IRBPHS. She also oversees The Tracy Seeley Center for Teaching Excellence (CTE) and the Center for Research, Artistic, and Scholarly Excellence (CRASE). Prior to her appointment in July 2015, she was Associate Dean For Faculty Development and Academic Effectiveness in the College of Arts and Sciences. Dr. McGuire earned her Ph.D. in Human Development and Family Studies from The Pennsylvania State University.
To view Dr. McGuire's curriculum vitae, please click here.  To read Dr. McGuire's blog, click here (forthcoming).
The Senior Vice Provost for Academic Affairs oversees the following departments:
Senior Vice Provost Organizational Chart