Ergonomics
In alignment with its commitment to providing you a safe and healthful working environment, the university offers a comprehensive ergonomic program for faculty and staff. We encourage all new employees to complete the following steps to ensure that your workspace is properly set up.
Step 1: Office Ergonomics Video
Please watch the following video created by Travelers Insurance, USF's workers' compensation vendor.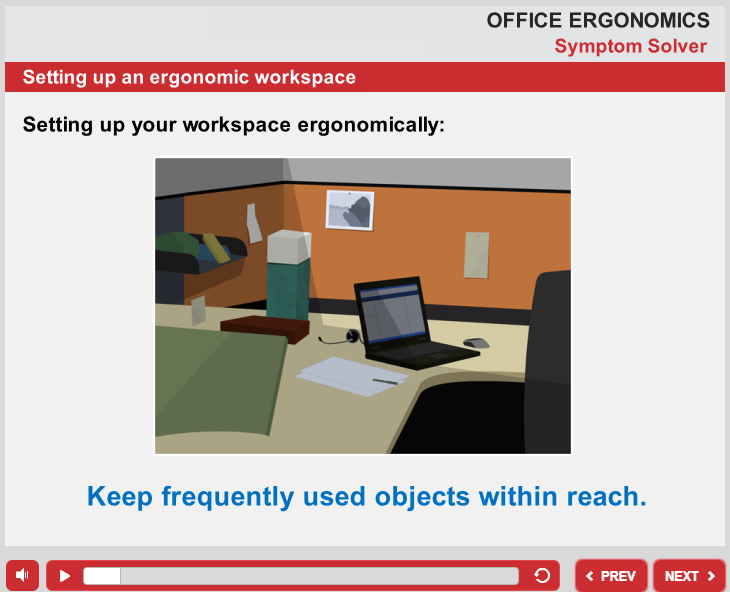 Step 2: Self-Assessment Guidelines 
There are many free, online resources to help guide you through a self-assessment to ensure that your worksapce is properly set up. We've found the following to be the most helpful: 
Step 3: Ergonomics Assessment
If you feel that your workspace cannot be ergonomically adjusted after following along the aforementioned guidelines provided by the video, NIH, and OSHA, an assessment by Syntropy, an occupational health solution system based in San Francisco, is recommended. Full-time, benefits-eligible employees who are newly hired, who have recently changed work locations, or who are experiencing pain or discomfort are eligible to request an ergonomics assessment pending their supervisor's approval. 
Ergonomic Assessment Process
Once you submit an ergonomic request form, you will be contacted within ten business days to schedule your appointment. Your new appointment will be emailed to you as a Google calendar invitation. Please respond "yes" to confirm and add the appointment to your calendar.
To cancel your appointment, refer back to the calendar invitation, and respond "no" within 48 hours' notice. Expect 6 to 8 weeks before receiving any equipment that you have ordered. Departments can order any equipment from their own budget if this timing is not convenient.
If you have any questions about scheduling or if you are experiencing serious discomfort and need to expedite an appointment or equipment order, please contact ergo@usfca.edu.
Terms and Conditions
Assessments are available to newly hired employees, current employees with new work locations (i.e. new office, new desk, etc.), or current employees who are experiencing pain or discomfort. All ergonomic assessments review current workstations, chairs, and equipment. New chairs and equipment are ordered only if the existing items are not functional.
Human Resources will not cover the cost of an ergonomic assessment for an employee who has had one within the last five years. If you are experiencing serious pain that you believe is work-related and have had an ergonomic assessment within the past five years, please email ergo@usfca.edu to submit a workers' compensation claim.
Syntropy
Human Resources has partnered with Syntropy, an occupational health solution system based in San Francisco, in order to provide you with faster and more effective service. Ergonomic assessments are conducted on campus by a licensed occupational therapist from Syntropy.
Kelly Whittlesey
Kelly Whittlesey is an Occupational Therapist based out of San Francisco, CA. Kelly graduated from the University of California, Santa Cruz in 2010 with a Bachelor of Arts degree in Psychology. Further pursuing her interest in health and wellness, she enrolled in the occupational therapy program at the University of Southern California and graduated in 2015 with a Master of Arts degree in Occupational Therapy. After working at Salinas Valley Memorial Hospital in the acute care rehabilitation setting, Kelly shifted her focus to pursue a career in ergonomics and workplace wellness, bringing an OT perspective to the challenges facing today's workforces. Currently, Kelly is working as an occupational therapist consultant for Syntropy, partnering with clients to create a more functional workspace that fosters wellness and reduces stress both physically and mentally. When not conducting ergonomic assessments, Kelly enjoys traveling within and outside the US as well as exploring every part of San Francisco.