Ergonomics Education
The university offers a comprehensive ergonomic program for faculty and staff.  We encourage all employees to follow this step by step guide to ensure your workplace is setup properly.  We are committed to maintaining a safe and healthy work environment.
Step 1: Review Ergonomic Workspace Set up
Watch this video and use the links below to help guide you through a self assessment and get your workspace set up properly.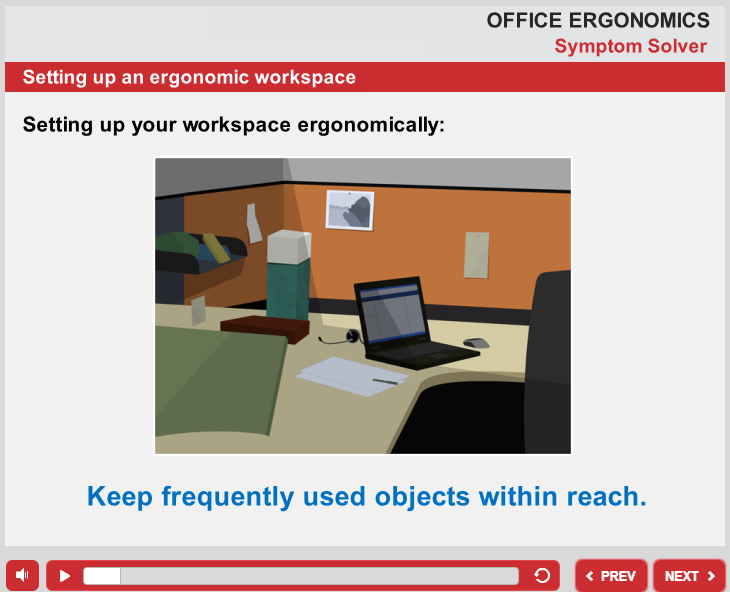 Step 2: Check your Eligibility
If you watched the video and reviewed the links above and are still unsure if your workstation is set up properly, review the terms for eligibility to receive an ergo assessment.
Full-time USF employees
Employees who are experiencing pain or discomfort
Step 3: Book an Ergonomic Assessment
If you meet the eligibility requirements, please schedule an appointment with our ergonomic vendor.
If you have any questions about scheduling or if you are experiencing serious discomfort and need to expedite an appointment, please contact ergo@usfca.edu.  
Ergonomic Assessment Process
You will receive an appointment confirmation via Google calendar invitation. Please respond "yes" to confirm and add the appointment to your calendar. To cancel your appointment, refer back to the calendar invitation, and respond "no" within 48 hours' notice, or email ergo@usfca.edu.
Upon completion of the ergonomic assessment (request for assessment is found here), you will receive an ergonomic evaluation report that includes a summary of findings and recommended products to order if necessary. This will be the primary back up documentation. Directions on how to submit an ergo order can be found on the ergo equipment webpage.
Expect 4 to 6 weeks for equipment delivery.
Syntropy
Human Resources has partnered with Syntropy, an occupational health company in San Francisco. Ergonomic assessments are conducted on campus by Kelly Whittlesey.
Kelly graduated from the University of California, Santa Cruz in 2010 with a Bachelor of Arts degree in Psychology. Further pursuing her interest in health and wellness, she enrolled in the occupational therapy program at the University of Southern California and graduated in 2015 with a Masters of Arts degree in Occupational Therapy.
Kelly worked at Salinas Valley Memorial Hospital in acute care rehabilitation before shifting her focus to pursue a career in ergonomics and workplace wellness, bringing a unique perspective to the challenges facing today's workforce. She enjoys partnering with clients to create a more functional workspace that fosters wellness and reduces stress both physically and mentally.
In her free time, Kelly enjoys traveling and exploring every part of San Francisco.
Terms and Conditions
Assessments are available to full-time USF employees or employees who are experiencing pain or discomfort. Human Resources grants employees a $200 credit every 5 years for ergonomic equipment. Human Resources will not cover the cost of an ergonomic assessment for an employee who has had one within the last five years. 
If you are experiencing pain that you believe is work-related, please email leaves@usfca.edu or call (415) 422-4801 to submit a workers' compensation claim.