2020 Go Move Challenge: Final Recap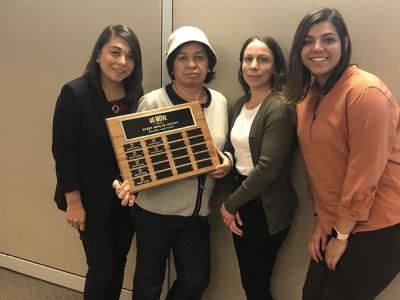 Published March 6
The results of the 8th annual Go Move Challenge are in! Congratulations to: 
Santa Clara University for earning the most minutes, 592,288 minutes of intentional movement
Le Moyne College for earning the highest average number of minutes, 1302, per participant.
REGION

East Coast - Fordham University
Mid-West - Creighton University
West Coast - Santa Clara University
South - Xavier University
Top Movers Share
Debby Merryman, Santa Clara University's Health and Wellness Administrator shares how her university once again logged such overwhelming exercise minutes this year, "Santa Clara University employees stepped up again this year in competing in the annual Go Move Challenge. Every employee who participated made sure to get as many minutes of exercise when they could. During the week, many employees started walking or biking to work and walking during breaks or lunchtime. They really upped their game on the weekends with activities like biking with their kids, weight lifting, Jui Jitsu, yoga, swimming, running, hiking and walks. Additionally, some did pilates, strength training at home, and cardio on the elliptical.
We also incorporated team challenges with SCU. This year we had 46 teams with 226 participants. This also helped motivate the employees to get up and move!  Overall, SCU loves the annual Go Move Challenge and is already looking forward to February 2021!"
February = Moving
For many AJCU institutions, the month of February has become synonymous with movement, and this year was no exception. Faculty and staff from 26 Jesuit institutions committed to tracking every minute of their intentional, physical activity for the past 29 days, and the collective numbers are impressive:
| | |
| --- | --- |
| Participating AJCU institutions | 27 |
| Total Participants | 4111 |
| Total Minutes of Movement:   | 3,713,149 |
| Avg. Monthly Minutes Per Person:   | 903 |
| Avg. Daily Minutes Per Person:  | 31 |
To see what numbers your institution accumulated, visit the Go Move Challenge website. Thank you to everyone for participating and finishing strong!
Group Effort
Beyond the competition and with the help of social media, the Go Move Challenge fosters camaraderie and new connections among AJCU colleagues while engaging in heart-healthy, physical exercise. Over 333 participants joined the Go Move Challenge Group on Facebook to share inspiring pictures, videos, and words of encouragement with their colleagues across the nation.
Weekly Recaps
As we have been reporting each week, participants have been as excited as ever to share their feedback on how the Go Move Challenge has positively influenced their month of February and beyond. If you missed any stories from previous weeks, you can access them, along with pictures, at any time:
Most Improved
The majority of our Institutions exercise minutes and participation increased. Here are some notable increases:
Fordham University increased their total exercise minutes by 115,000 and participants by 140! They also moved up from 10th place in 2019 to 6th place this year.
Fairfield University increased their total exercise minutes by 70,000 and participants by 34.
Canisius College increased their total exercise minutes by 24,455 and participants by 11.
College of the Holy Cross increased their total exercise minutes by 13,000.
Santa Clara University and University of San Francisco increased their total exercise minutes by 60,000 each.
New to the challenge: Boston College placed 8th for most minutes logged and 3rd for averaging the most minutes per person.
In addition, new to the challenge: University of Scranton placed 14th, logging 80,000.
Stay Connected
Although the challenge is over, all participants are encouraged to share your stories and connect on social media. For information on next year's challenge, contact the Go Move Challenge administrator, Suzy Kisylia, at skisylia@usfca.edu.  Who's in for 2021?