2022 Go Move Challenge: Final Recap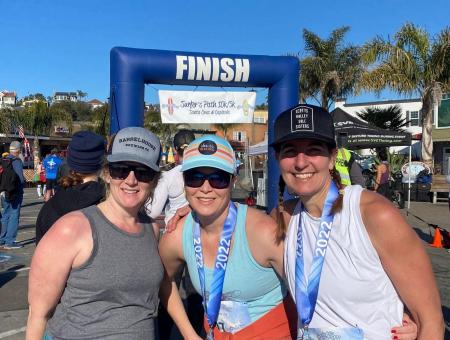 Published March 4
The results of the 10th annual Go Move Challenge are in! Congratulations to everyone who completed the challenge. Our numbers are impressive. We accumulated over 250,000 more minutes this year than in 2021! Congratulations especially to the institutions who win bragging rights for the following:
Most Minutes: Santa Clara University for earning the most minutes, 510,089 minutes of physical activity and the overall winner for the 4th year in a row.
Average of Most Minutes: Saint Joseph's University for earning the highest average number of minutes, 1467, per participant. A huge congrats for this first time winner in this category!
Regional Average Minutes Per Person

East Coast - St. Joseph's University
Mid-West - University of Detroit Mercy
West Coast - Santa Clara University
South - Xavier University
February = Moving
For many AJCU institutions, the month of February has become synonymous with movement, and this year was no exception. Faculty and staff from 21 Jesuit institutions committed to tracking every minute of their intentional, physical activity for the past 28 days, and the collective numbers are impressive:
| | |
| --- | --- |
| Participating AJCU institutions | 21 institutions |
| Total Participants | 2612 participants |
| Total Minutes of Movement:   | 2,838,363 minutes |
| Avg. Monthly Minutes Per Person:   | 1087 minutes |
| Avg. Daily Minutes Per Person:  | 39 minutes |
To see what numbers your institution accumulated, visit the Go Move Challenge website. Thank you to everyone for participating and finishing strong!
---
Shout Outs to Many:
Many of our Institutions exercise minutes, participation and placement increased:
As mentioned above, Santa Clara University won the title of most active Jesuit institution for the 4th year in a row! Congrats SCU!!
Saint Joseph's won the title of most average number of minutes per person. They accumulated 3x the minutes from 2021 and moved from 13th place to 5th for overall minutes.
University of Detroit Mercy placed 2nd for average number of minutes. They accumulated 2x the minutes from 2021 and moved from 12th to 6th place for overall minutes.
Fairfield University moved 50,000 more minutes this year.
Loyola University Chicago had 4x the participants and 3x the number of minutes from 2021.
Georgetown University moved 2x as much this year as last year.
The top movers are from Loyola Chicago, Joe Wardzala and David Siembal (1 minute apart).
Creighton has come in 2nd place the past 4 years. They are a tough competitor.
We had over 120 teams created and participating which definitely helped us move more.
We accumulated over 250,000 more minutes this year than last!

---

 
Participant Feedback
We've received some feedback as to why our colleagues like to compete in this challenge year after year:
It felt good to contribute my individual activity minutes for my institution

Camaraderie, challenge, logging minutes, getting moving in the winter months a little more...

Moving more for better health

I liked seeing where the University stood compared to other institutions and where I stood compared to my colleagues

I like facing off against other universities, even bigger ones! Lots of fun

It forced me to be creative about how to get colleagues to participate. I think it worked because we've done better than ever!
To continue offering the best challenge possible, we need your feedback. Please take a moment to complete the 10th annual Go Move Challenge survey.
---
Group Effort
Beyond the competition and with the help of social media, the Go Move Challenge fostered camaraderie and new connections among AJCU colleagues while engaging in heart-healthy, physical exercise. Many of our participants used the Go Move Challenge Group on Facebook, Instagram and used #GoMoveChallenge to share inspiring pictures, videos, and words of encouragement with their colleagues across the nation.
Weekly Recaps
As we have been reporting each week, participants have been as excited as ever to share their feedback on how the Go Move Challenge has positively influenced their month of February and beyond. If you missed any stories from previous weeks, you can access them, along with pictures, at any time:
Stay Connected
Although the challenge is over, all participants are encouraged to share your stories and connect on social media. For information on next year's challenge, contact the Go Move Challenge administrator, Suzy Kisylia, at skisylia@usfca.edu.  Who's in for 2023, our 11th anniversary?