Housing Culture
Common SF Rental Speak
As the city of San Francisco is quite unique, so are the housing options. Here are some typical San Francisco renting options and terminology that you will most likely encounter during your housing search.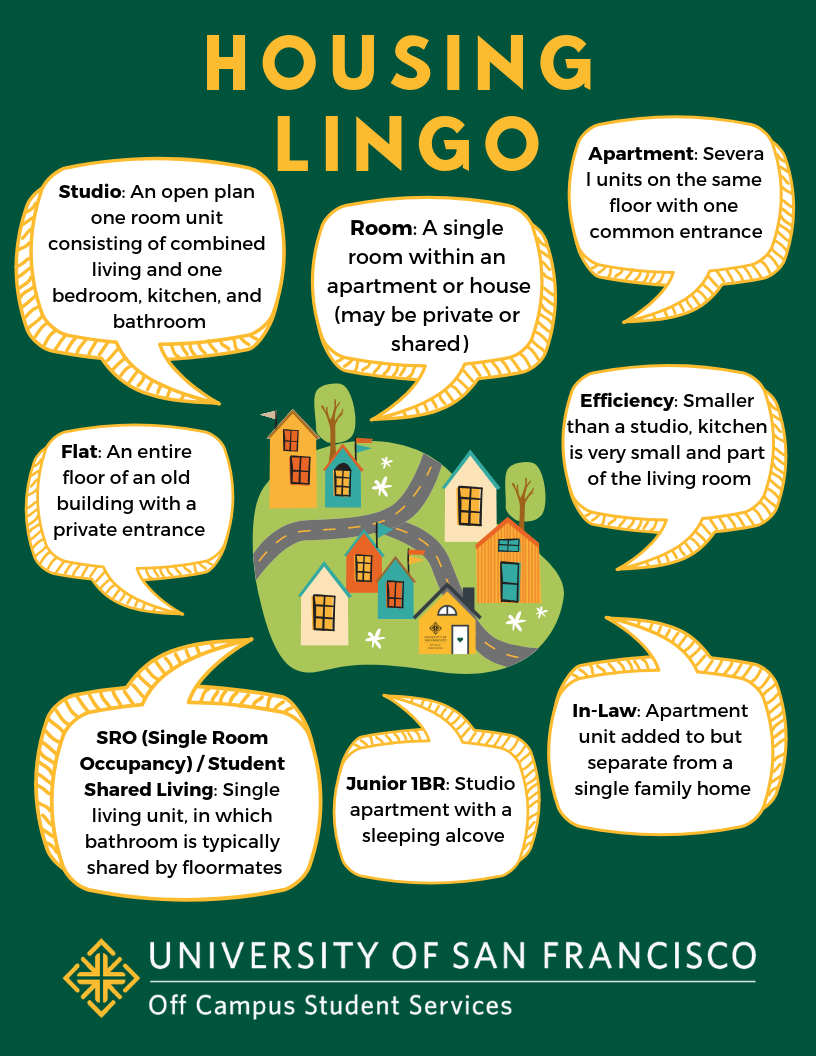 Lease Terminology and Key Information
Most common leases are 12 months long, with rent being due the first day of each month. Here is a list of lease-related terminology commonly used by landlords. 
Month-to-Month: A type of housing contract that is renewed at the end of each month. Under this lease agreement, tenants are allowed to leave after giving a 30 day notice. 
Yearly: A housing contract that holds tenants liable to pay rent for an entire year. Breaking a signed, yearly lease agreement will result in a tenant having financial penalties. 
Please note that it's rare for leases to start out as month-to-month. Usually, landlords will give their tenants the option to switch to month-to-month after the first year lease is up. If you are looking for a housing lease agreement that doesn't hold you accountable to a full year, subletting might be the best option for you. 
Definitions
Landlord: The person who owns and/or rents the property 
Master tenant: Person who moves into the premises under a written or oral contract with the landlord or whoever inherits the apartment after the original master tenant leaves. S/he collects the rent from the subtenants and pays the landlord each month. The master tenant is the only person on the lease. 
Subtenant: Tenant who pays the master tenant each month and who is not on a signed lease agreement
Co-Tenant: Person who may have moved into a property after the original lease as signed, but has established a relationship with the landlord, most commonly through payment of rent each month 
Rent: Amount paid by the first day of every month to continue living in a property 
Lease: Contractual, legal agreement written and signed by the landlord that specifies the property to be rented out for a tenant or tenants during a specific period of time 
Deposit: The amount paid to a landlord during the beginning of a lease assignment as a placeholder for any fees that may arise due to damages during a tenant's rental period. All tenants are legally entitled to receive this deposit back at the end of a lease agreement, assuming that obligations have been met and that no damages have occurred. 
Penalty Fee: Amount owed to landlord by the tenant if the tenant breaks any of the rules listed on the lease agreement 
Rent Control: (Taken from the San Francisco Tenants Union) "In San Francisco, most tenants are covered by rent control. This means rents can only be raised by certain amounts per year and the tenant can only be evicted for 'just causes.' In addition, some rental units have restrictions on how much the landlord can charge the new tenant due to previous evictions. Tenants who do not have rent control can have their rent increased by any amount at any time with a proper written notice." 
Renters Resume: A document that lists past living arrangements, landlord references (if the applicant has any), current employment, and scholarships or revenue intended to verify stability in terms of paying rent in a timely manner. Renters resumes quite often verify applicants as respectful and responsible people who would be qualified as tenants. 
Factors that Increase Rent
Newly remodeled appliances or areas of the home/apartment
Hardwood floors 
Close and easy access to public transportation 
Desirable location (near popular area, beach, tourist attractions, view, natural light, etc.) 
Garden or rooftop access 
Ability to own and to live with furry friends (especially dogs); pets also limit housing options 
Parking and/or laundry facilities included with the apartment rent
Additional Information
The advantage of living in an old apartment building--as compared to a modern building--is the potential for lower monthly rent and a sense of "character" to the space that modern buildings may lack. Disadvantages may include but are not limited to a smaller space with fewer amenities and the potential for appliances to break down more easily. 
An apartment vacancy tends to have a very short window of opening before a landlord drafts a lease to fill that space. If you are interested in a property, don't waste time. Complete an application as soon as you are able to. 
Property managers will typically not "hold" an apartment. Once a lease agreement is signed, the rent and/or security deposit is due immediately to finalize the transaction. 
As this is a competitive housing market, it is important to demonstrate to the property manager and/or landlord that you are a responsible and respectful person. Carrying a folder of your financial information along with a renters resume is highly recommended.