New Student and Family Orientation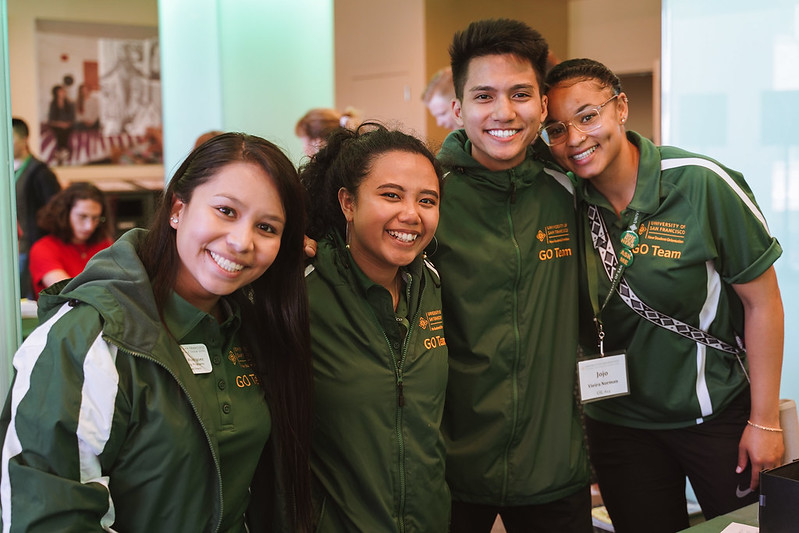 Attending Orientation is an essential aspect of facilitating your transition into our USF community. All new first-year and transfer students are required to attend Orientation. Families are welcome to participate in our family orientation program.
During orientation, you will have the opportunity to:
Immerse Yourself in the Campus Community: Get a firsthand experience of the lively campus environment and immerse yourself in the rich diversity and spirit of our community.

Discover Campus Resources: Familiarize yourself with the wide range of resources available to support your academic, personal, and professional growth. Our comprehensive support system is designed to empower you throughout your journey at USF.

Connect with Faculty, Staff, and Students: Interact with esteemed faculty members from your school/college, dedicated staff, and current students who will serve as your Orientation Leaders (OLs). Build meaningful connections and gain insights from those who have walked the path before you.

Embrace the USF Spirit: Learn what it truly means to be a USF student and embody the core values that define our university. Discover the traditions, values, and pride that make USF a unique and inclusive community.
Fall 2023: Orientation Dates
NOTE: Move-In and Orientation dates are subject to change. Should timing need to change, per public health guidance, we will communicate adjustments as quickly as possible.
---
NEW FIRST-YEAR STUDENTS & FAMILIES
First-Year Student Move-In Day: Saturday, August 12
First-Year Student Orientation: Saturday, August 12 - Monday, August 21
First-Year Family Orientation: Saturday, August 12 - Sunday, August 13
---
NEW Transfer Students & Families
Transfer Student Move-In Day: Saturday, August 19*

Note: New international transfer students will move in on Saturday, August 12

Transfer Student Orientation: Sunday, August 20 - Monday, August 21

Note: New transfer students seeking a traditional orientation experience must register for our first-year orientation program no later than Friday, July 14.  For more information, please email our office. 

Transfer Family Orientation: Sunday, August 20
---
other IMPORTANT DATES:
First Day of Classes: Tuesday, August 22
Weeks of Welcome: Monday, August 21  - Monday, September 4
---
If you have any questions regarding Orientation, please email us at orientation@usfca.edu. 
Download our USF Mobile app for the orientation schedule, campus map, latest events, and more!