The Jigsaw Method: Putting Pieces Together
Written by Angie Portacio
August 7, 2019 • 2 minute read
---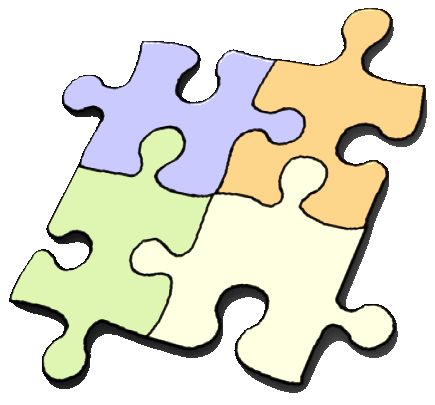 Most students dread doing group work in many classes because they either find it difficult to collaborate with their peers that choose not to participate or are not comfortable speaking in front of people. But working in groups is considered an important skill that students should acquire before they graduate from college to be marketable in almost every career field.
The jigsaw method is a small group activity that promotes student-centered learning and encourages students to take a deeper understanding of concepts and course content so they can teach their peers.
The jigsaw method is a cooperative learning strategy that provides students an opportunity to actively help each other build comprehension.
Benefits
Jigsaw is a method for encouraging group sharing and learning of specific content. This technique can be used as an instructional activity across several days and is best to use when there is a large amount of content to teach.
Jigsaw helps students learn cooperation as group members share responsibility for each other's learning by using critical thinking and social skills to complete an assignment. Subsequently, this strategy helps to improve listening, communication, and problem-solving skills.
Monitor each student's participation within groups to get information about how much the students already know about the topic. This allows teachers to tailor instruction accordingly.
Prior to applying this method in your class, you must spend some time choosing a topic that can be divided into numerous sub-topics for students to become subject matter experts in their small groups. Remember, this activity can span into several class sessions.
Once you determined the topic and subtopics then do the following in class:
Organize students into a group of 4-6 people.
Divide the day's reading or lesson into 4-6 parts, and assign one student in each group to be responsible for a different segment.
Give students time to learn and process their assigned segment independently.
Put students who completed the same segment together into an "Expert group" to talk about and process the details of their segment.
Have students return to their original "Jigsaw" groups and take turns sharing the segments they've become experts on.
Have students complete a task or a quiz that's reliant on them having understood the material from the contributions of all their group members.
(Source: What is the Jigsaw Method?)
Download our how-to guide of using jigsaws in remote/online teaching from Google Docs.
Synchronous Application Example
To guide students to actively apply and build upon their knowledge in a synchronous session:
Create groups in class: During a class session, begin by discussing your expectations for the activity and assign parts of the reading to your students.
Divide into common groups: Put students in breakout rooms with others who completed the same part of the reading. Have them discuss their reading notes and questions with each other. Ask students to create a shared document and record what they decide are the most important parts of the reading.
Visit groups: Visit breakout rooms on Zoom to support students and guide them as you might in a face-to-face class. Make sure students are on the right track with what they discuss with their groups.
Groups with representatives: Next, place students into new breakout rooms where each student acts as a representative of their assigned group. They will share with their new groups their shared documents and discuss their identified highlights from the reading.
Share back: Return groups to the main session and ask them to share highlights about the readings, as well as their discussions with new groups. Point to different findings and points that you heard discussed.
Asynchronous Application Examples
Using Canvas discussion boards and Zoom meetings, students can meet outside of class to discuss what key points identified in the reading and prepare to share back with the rest of the class.
Host a Zoom meeting: Students can use their Zoom accounts to hold their own meeting with others in their group to create a shared document or list of key points they identified in the reading.
Check for understanding: Have students record their Zoom meeting and email it to you, so you can review their discussion and check that they covered all of the key points you identified or address any questions they may have.
Create a discussion board: Create a discussion board for students to discuss their key points. Students can either create a text post or put together a presentation, shared with the rest of the class using a recorded Zoom meeting. Have students create their shared document and share with the class.
Preparation Tips
Make sure students can access required readings by posting on Canvas.
Consider your student group preferences
For synchronous activity, send students timing updates via the breakout room announcements function
For asynchronous activity, make sure students know how to contact each other outside of class.
Facilitation Tips
For the live session, let students know beforehand they will participate in two groups — one to discuss the reading with others who had the same assignment, and another to "teach" their part of the reading.
During synchronous class sessions, visit breakout rooms and check in on students, guide their understanding and answer any questions. Provide students with time left updates as announcements to the breakout rooms for sync sessions.
Before asking students to meet asynchronously, remind students to exchange contact information and set up their meeting time.
Dr. Sarah Capitelli, a professor of Teacher Education in the School of Education, implemented the "Jigsaw method" in her Fluency and Comprehension for Linguistic Diverse Learners hybrid course. To support blended teaching modalities, Sarah used a combination of Zoom video conference and in class activities.
Are you or someone you know finding success with teaching with the jigsaw method? If so, we'd love to hear from you! Email instructionaldesign@usfca.edu.
Resources
Pennsylvania State University: Jigsaw Strategy
Student Engagement Techniques: A Handbook for College Faculty (Barkley, 2010, book)
Request Instructional Design Workshops
USF's Instructional Designers offer a two-hour in-person workshop on active learning pedagogies. Create and integrate activities in your course to help with student understanding and interaction, with and without technology.

For more information, email the Instructional Design team.