Dress For Success
"You never get a second chance to make a first impression."
— Author unknown 
Did you know that a hiring decision can take place within the first few minutes of your interview? This means that dressing appropriately is very important!
No one enjoys being judged for employment based on looks; we would rather be hired because of our skills and abilities. But like it or not, appearance does matter in the interview and on the job.
Your appearance can send messages to potential employers about your motivation, judgment, professionalism, and "fit" within the organization. For an interview, you want to communicate respect, so you should dress a little more conservatively and formally than employees typically dress at that organization.
You can check the company website or it's perfectly appropriate to ask the person scheduling your interview for information on the company dress code. Rule of thumb: When in doubt, ask!
General Dress for Success Guidelines
There are three main categories of dressing for success: Business Professional, Business Casual, and Smart Casual. While there are no absolute rules regarding attire, here are some guidelines.
The primary goal of dressing for your interview is to feel good and look professional. If you feel uncomfortable in an outfit - even if it fits and people say you look great - don't wear it
Quality, cut, and fit communicate a lot; avoid wearing a suit that is clearly too big or too small. Professional alterations can be a good investment
Regardless of whether you are dressing in Business Professional, Business Casual, or Smart Casual wear for work, you should avoid dirty/wrinkled clothes, scuffed shoes, chipped nails, athletic clothing, sneakers, hiking boots, flip-flops, athletic sandals, and any shorts, skirts, or tops that are too short or tight for the office
Note: This information is purposely gender-neutral and inclusive of diverse ethnic, cultural, and religious backgrounds. Your culture, gender, and religious identity may influence your choice of attire. We encourage you to incorporate those elements into your dress for success wardrobe.
"Business Professional" Attire Means

Two-piece suit and tie; solid, neutral colors are best
Skirt length should be to the knee—or close to it, depending on what length works for you
Solid color or subtle patterned blouse/top/dress shirt
Minimal jewelry
Dark shoes with dark socks. If you are unsure which shoe or sock colors "go" with your suit, or what color belt you should pair with your suit/shoes, ask the Career Services Center staff for advice
Closed-toe shoes (1 or 2 inches heel height) are appropriate but should be comfortable to stand and walk in; flats or wedges are okay as well
Subtle makeup
Trimmed facial hair
Avoid colognes, perfumes, body sprays
Carry a portfolio, professional bag or simple, small purse (no backpacks)
"Business Casual" Attire Means

Wearing a tie is optional
Sport coats/blazers are appropriate, but not required
Shirts should be collared (polo or button-down)
Dress pant options include slacks, khakis, chinos (No leggings!)
Dresses or skirt/blouse combinations are appropriate (sundresses are not appropriate)
Shorts are not considered appropriate for interviews
Good casual shoes, like loafers, flats, wedges, or low heels (sandals may be appropriate considering the climate – but no flip-flops!) or fashion sneakers.
Subtle makeup
Avoid colognes, perfumes, body sprays
"Smart Casual" Attire Means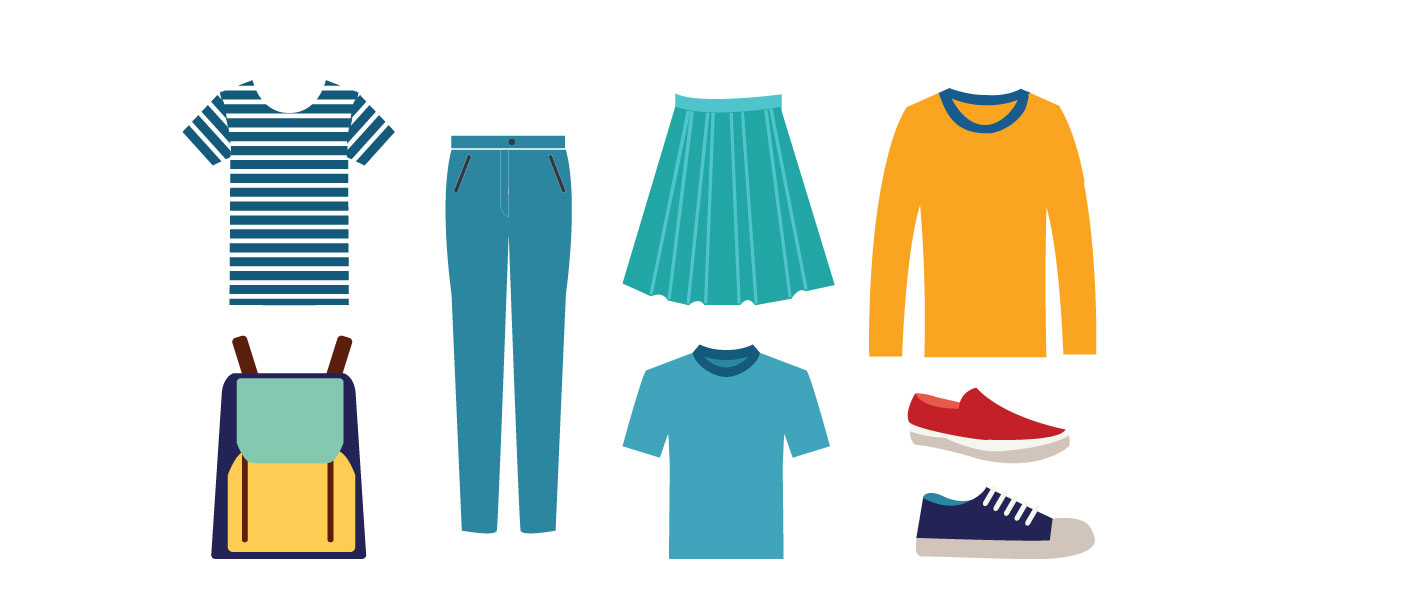 Anything listed as Business Casual, and:
Jeans—avoid rips or holes; darker washes are generally considered more professional
Clean, plain T-shirts
Sandals may be appropriate, but not athletic sneakers or flip-flops!
Avoid athleisure wear, spaghetti straps or camisoles, or any top that reveals too much bare skin
Non-Dress Issues
Here's what can really hurt you in an interview, even if you are dressed perfectly. Be sure you pay attention to personal grooming issues before meeting with an employer:
Make sure to completely turn your phone OFF before the interview - the vibrate setting can still be distracting and interrupt the flow of your conversation with your interviewer
Iron your clothes before the interview – employers will notice wrinkled clothes
Accessories are great but should not be distracting to you or your prospective employer
Empty your pockets of coins or anything that will distract you or your interviewer
Personal expression is empowering, but until you've landed a job with an employer who appreciates unique personal expression (e.g. visible tattoos, facial piercings, brightly colored hair, etc), realize that these may be outside of the cultural norms of the office/ organization
Do not wear hats or ball caps to an interview (religious exceptions apply)
Personal hygiene is extremely important. Employers will expect the following standards:

Bathe and use deodorant
Hair should be clean and, if possible, recently cut or styled
Facial hair should be clean-shaven or neatly trimmed (religious exceptions apply)
Nails should be clean and trimmed. You'll be shaking lots of hands at the interview. If you get a manicure or pedicure before your interview, choose a nail color and length that will be comfortable for you and not distracting to your interviewer
Brush your teeth right before the interview, and carry breath mints for last-minute emergencies, but do not have gum/candy in your mouth when you meet the interviewer
If you smoke, keep your interview clothes somewhere smoke-free
If you have specific questions about professional attire or have concerns not covered here, the Career Services Center staff will be happy to speak with you individually. Remember, the goal of the interview is to get the job offer! Dress to make sure your potential employer is paying attention to your accomplishments and professionalism.