Transgender Spectrum Initiative (TSI)

The Transgender Spectrum Initiative was a Jesuit Grant Foundation-funded program from the Gender & Sexuality Center at USF. The purpose of the Transgender Spectrum Initiative (TSI), through the Jesuit value of Contemplation in Action, was to invite USF's transgender, non-binary, gender nonconforming people and the broader community to reflect on and engage in a dialogue about the marginalization and injustice that transgender, non-binary, and gender nonconforming community members experience on a day to day basis. The focus of these spaces will be solidarity-building and personal and professional development. 
Visiting Speaker Series
The Transgender Spectrum Initiative's Visiting Speaker series provided the USF campus community with an opportunity to uplift and center the voices and experiences of trans, non-binary, and gender nonconforming people who focus on community and empowerment. The San Francisco Bay Area has a deep history of LGBTQIA+ activism, and the Visiting Speaker series was intended to bridge the past and current experiences of trans, non-binary, and gender nonconforming people.
The trans* community has such a rich and beautiful history of activism in the bay area and beyond! Watch this presentation from Juniper Yun, program associate for SF's Transgender District about the history of trans advocacy in the Bay Area as well as current issues facing the trans community.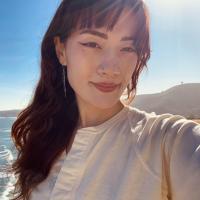 Juniper Yun is a South-Korean born, Oakland-based visual artist & writer whose work explores themes of identity, desire, and transformation.

As a transgender woman of color, Juniper utilizes an interdisciplinary approach of art-making, writing, and cultural studies to empower her communities. Through using traditional methods of her heritage (such as paper and dye-craft), and remixing it with new media and performance, Juniper creates work that lives in the light and the dark; in the past, present, and future.

Juniper currently works as Program Associate for The Transgender District in San Francisco, the world's first legally recognized district dedicated to those of the transgender experience. In 2018, she finished her first poetry booklet, Conversations of Water, as well as completed a writer's residency through RADAR Productions in line with the San Francisco Public Library in 2019.

She continues her practice as a freelance artist and writer in the Bay and beyond.
This conversation explored how identity intertwines with spirituality. Every trans person has their our own unique spiritual experience. Our three guest speakers Fresh "Lev" White, Hilary Howes and Jhos Singer each spoke about how they have navigated their Trans identity and spirituality throughout their lives.
Panelists:
Moderator: Rev. Donal Godfrey, SJ
Fresh "Lev" White (Buddhist),
Hilary Howes (Catholic)
 Jhos Singer (Jewish)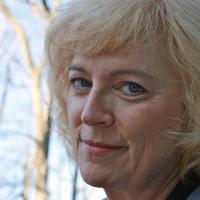 Hilary Howes is the founder of TransCatholic a Roman Catholic apostolate to support the dignity and inclusion of transgender laity.
She grew up Californian, unchurched, and assigned male at birth. Praying to wake up as a girl since about 6 years old she testifies to the midlife transfiguration that allows her to be a successful Catholic woman. In the 1990's she went through a period of therapy and discernment that led to her transition in 1995. This spiritual path to her true self brought her to baptism as a Roman Catholic in 2003 and weekly Mass at an Intentional Eucharistic Community ever since.
Her article "To Be or Not to Be: A Catholic Transexual Speaks" has become a pdf used by colleges for gender identity studies.  She with her family were interviewed for LGBT Catholics: OwningOurFaith a video for Church of St. Paul the Apostle in New York City that was delivered to Pope Francis. She is published in More than a Monologue Sexual Diversity and the Catholic Church: Volume I: Voices of Our Times - Christine Firer Hinze and  J. Patrick Hornbeck, editors by the Fordham University Press.
She has been a public information officer for Transgender San Francisco, served on the Board of Gender Rights Maryland, and on the Trans Roundtable of the Center for Lesbian and Gay Studies in Religion and Ministry at the Pacific School of Religion. Professionally she is a Yacht Broker in Annapolis Maryland and is best known as an author, speaker, and creative in the event, exhibit, and color industries. Personally she is 43 years married, a parent of an NYU grad and proud to have been a son, daughter, father, mother, husband, and wife at various times in her life.
!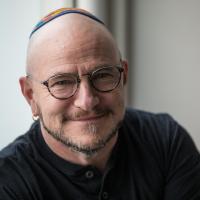 Jhos Singer is a gifted preacher, storyteller, pastoral counselor, chef, mixologist, and musician. He skillfully translates Torah and Jewish tradition into dynamic, accessible, relevant, and compelling ideas, provocative stories, and delicious cocktails. In one hand he holds a BA in Music from UCLA and an MA in Jewish Studies from the Graduate Theological Union—and in the other he wields a drum, spoon, and a dictionary of Talmudic Hebrew. He was ordained as a Maggid (a Jewish spiritualist) by Rabbi Gershon Winkler in 2002. He connects traditional rabbinic wisdom to our modern lives. As a transman Jhos sees through a queer lens, interweaving contemporary dilemmas with Judaism's ancient insights, finding wisdom in the sideways approach of rabbinic thought.
In addition to his work as the Maggid of the Jewish Community Center of San Francisco and congregation Chochmat HaLev in Berkeley, he also works at the queer yeshiva SVARA, and writes and teaches in the Bay Area and nationally; His teaching can also be found as an ELItalk.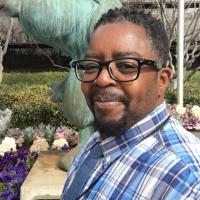 Fresh "Lev" White is a love and compassionate activist. He offers mindfulness, coaching, mediation, and diversity trainings as tools for shifting towards more authentic, conscious, and passionate living to individuals, households, and professional teams. As a certified coach, and professional trainer, Lev has offered over 200 diversity trainings in the San Francisco Bay Area and Beyond. Lev earned his coaching and leadership certifications through the Co-Active Training Institute. He is mindfully grounded at the East Bay Meditation Center, and a graduate of Spirit Rock's Community Dharma Leadership program. Lev also offers secular mindfulness and non-secular meditation and talks on Compassion in both corporate and private settings. He credits his ability to reach diverse audiences to his years growing up in and around various  communities in New York. Learn more on LinkedIn: "Fresh "Lev" White.
Finding a job can be a struggle, especially nowadays; and being trans identifying can often add another layer of stress to the process. Watch our panel discussion of trans workers from different fields talk about staying safe in work environments!
Panelists:
Moderator: Juno Chambers
Zakir Mckenzie Parpia (Zak)
Lexi Adsit
Juniperangelica/Gia Cordova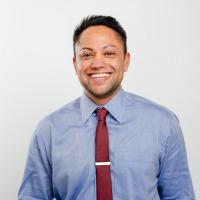 Zakir McKenzie Parpia (Zak) found his way to youth development via youth athletics. He is passionate about supporting and developing high quality youth development professionals and programs. As the Director of Programs at CalSAC, Zak works on leadership, training and capacity building programming, curriculum development, and statewide equity initiatives. Zak's lived experience as a man of trans experience and a person of color informs how he moves in the world and grounds his commitment to practicing compassionate, intersectional youth and leadership development and anti-oppression efforts. Outside of work, you can find him on biking adventures, listening to podcasts while working on puzzles, cooking or reading a good book. He recently moved to Portland, Oregon with his wife, dog and cat to be closer to family. In November 2020, they welcomed their first human child, Maya Anjali, into the world. He is sleepily adjusting to fatherhood.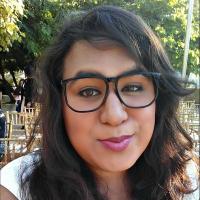 Lexi Adsit is a fierce, fat, and femme translatina writer, storyteller, and stand-up comedian best known for her sassy, incisive feminist comedy style rooted in themes that advance social justice. Heavily influenced by W. Kamau Bell and Hari Kondabolu, she guides audiences through journeys of healing and transformation. An artist, arts producer, and Managing Director of the trans women and femme of color –centered, East Oakland- based arts group Peacock Rebellion, she has co-led the group recently named to the 2017 "YBCA 100," Yerba Buena Center of the Arts' annual list of the one hundred people, organizations, and movements who are shaping the future of culture.
Her writing has been featured on Salon.com, Autostraddle, and in the upcoming anthology Trap Door: Trans Cultural Production and the Politics of Visibility. She critically examines transgender women of color, social justice movements, art, cultural production, adoption, and neoliberalism.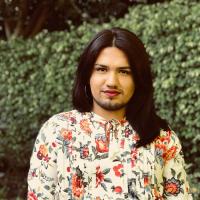 Juniperangelica/Gia Cordova is a queer, trans Latina, mother, and community organizer living in the Bay Area, originally from El Monte, CA. Juniperangelica is currently the Associate Director of Gender Justice Leadership Programs at GSA Network & Transgender Law Center, based in Oakland.
Her work with TLC and GSA Network centers the leadership and power of trans and nonbinary youth and is creating space for youth power to lead us toward safer schools and futures for our people. Juniperangelica attended Citrus College ('16) and then transferred to UC Berkeley ('19). She majored in Ethnic Studies with a minor in Race & the Law. (Shoutout to community colleges + public schools!)
Student Retreat
We hosted a two-day online retreat. The sessions of this retreat were centered on vocational discernment, mental wellness, and spiritual growth. Student participants got the opportunity to share the lessons that they have learned throughout the course of the semester as well as plan toward what the needs of their community are moving forward.
Keynote Speaker:
Mason J. is a Black & Indigenous SF-born artist, historiographer, media strategist, and community organizer with varied interests ranging from Keak da Sneak to Keeping up with The Kardashians. Their focused passions include land use, youth empowerment, LGBTQ senior services, disability justice, intersex rights, gender/sexuality. In addition to duties on the GLBT Historical Society board and previously working with the SFPL James C. Hormel Center and Transgender Cultural District, Mason acts as Program Manager and Co-Founder of RADAR Productions Show Us Your Spines BIPoC queer archives residency. They are the author of Crossbones on My Life (Nomadic Press, 2021) and co-editor of Still Here SF: An Anthology of Queer and Trans People Raised in San Francisco (Foglifter, 2019). 
Workshop 1: TGI Health and Wellness: An Invitation to Movement
For many transgender, gender-variant, and intersex (TGI) people our health, wellness and relationship to fitness/movement has been marred by structural oppression, toxic fitness spaces and "fitness" culture. What are ways that we can reimagine our relationship to health, wellness and more specifically fitness and movement on our own terms? In this workshop we will name some of the barriers we face in accessing affirming health/wellness and movement and explore practical methods for improving our relationship as TGI people to fitness and movement. 
Facilitated by:  CJ Miller (they/them/their) who  is a white, non-binary trans person, and is the Operations Manager for the USF Koret Health and Recreation Center. They have been involved in Recreational Sports and the Rec Sports Department (RSD) at USF for nearly a decade. As a double Don (BA '15; JD '18), CJ works to center the social justice principles that drew them to USF in their current work with RSD and in their legal volunteer work serving the TGI community. In their spare time you can find them playing video games with their partner, re-reading Octavia Butler's "Parable" series, listening to Dungeons and Dragons livestreams/podcasts, or working out.  
Workshop 2: Navigating Career, Workplace Bureaucracies and Healthcare
While beginning a career is stressful for everyone, transgender people face particularly large burdens to career discernment, entry and workplace bureaucracy. This workshop will address questions regarding the hiring process, including how to approach background checks, transition in the workplace, understanding health insurance access and leave, and negotiating workplace dynamics. The workshop will devote notable time to Q&A where Theo will discuss his knowledge and experiences traversing different industries and types of work.
Facilitated by: Theodore Retos (he/him/his) received his Master's in Public Administration with a focus on Health Services from the University of San Francisco. His work is in the area of health equity, healthcare access, and queer and transgender health, particularly regarding long-term health outcomes, culturally competent care and the social determinants of health.  Theo has worked for several different healthcare organizations, including a private commercialization and reimbursement consulting firm, a single-payer advocacy organization and a non-profit educating the public about clinical trials.
Workshop 3: SexWithoutShame
An open conversation about dating and intimacy as queer, trans, and non-binary folx. Join us for sharing, questions, and community support as we begin to normalize sex positivity in our spaces.
Facilitated by: Angel Tseng (she/her/hers) is a cisgender, bi and poly, immigrant woman of color from Taiwan. Angel is a Bay Area native and lives in Oakland.
Angel is currently a counselor at USF Counseling and Psychological Services. She is a multicultural therapist and focuses on the integration of social justice and intersectionality in her work. Angel created and facilitates the Trans and Non-Binary Support Group at CAPS and additionally works as a Mental Health Coordinator for AAMPLIFY, a nonprofit org empowering AAPI youth to become social justices leaders, in her free time. Angel is additionally a dog mom to Donut and a bartender in Mission District of SF.