Catholic Educational Leadership Summer Session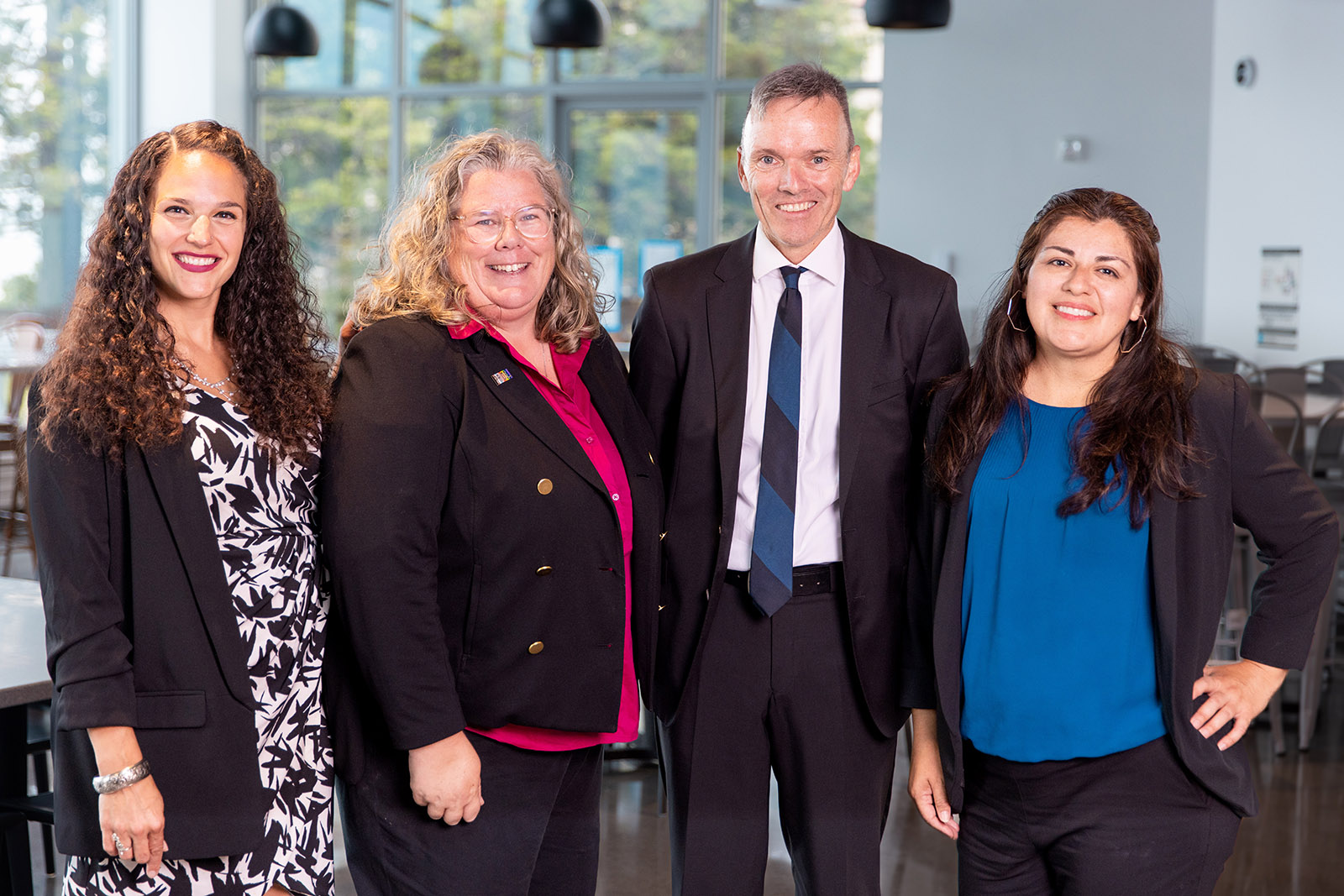 The Catholic Educational Leadership (CEL)  Summer Session at USF is a unique space. During this time students, faculty and staff come together to learn, connect, and share faith and fellowship as educators with a common mission, advancing justice through education. Summer Session is made possible by the support from the McGrath Institute of Jesuit Catholic Education.
Pictured above: Desiree Zerquera, Associate Professor and Department chair leadership studies; Jane Bleasdale Assistant Professor and Faculty Program Coordinator CEL; Michael Duffy, Director of McGrath Institute for Jesuit Catholic Education; and Ursula Aldana, Associate Professor and Faculty CEL.
Program Delivery
Current students take classes for one, two, or three weeks. 
On campus accommodations are available, students often share study and community activities.
Scholarships are available for current and visiting students.
Classes meet daily from 8-5 pm with time for fellowship, reading, reflection and prayer built in.
Visiting Students
 All Catholic Educational Leadership Courses are open to visiting students. We welcome visiting students to join us for one or two classes either during the summer or each semester.
Catholic Educational Leadership Visiting Students
Summer Housing
On campus accommodations are available, students often share study and community activities. On-Campus housing is available from Saturday, June 10th, through Saturday, July 1st. Applications must be received by May 31, 2023.
Cost of Apartment-Style Housing
Single Occupancy Rate - $99/night
Double Occupancy Rate - $150/night ($75.00 per person/night)
Please note: For double occupancy, a double room means that a student shares the bedroom with one other student.
Summer Session 2023 
Applications in Catholic School Law and Legal Issues with Dr. Bleasdale
Week One June 12 - 16 8 am - 5 pm In person 
This course is designed to provide a variety of opportunities and experiences for participants to develop an understanding of the multiple  law and human resource responsibilities that are assigned to an administrator in a Catholic Institutions The class will focus on creation of fair and mission based contracts and handbooks for students and employees. 
Critical Historical Analysis of Catholic Education (formerly History and Principles) with Dr. Aldana
Week Two June 20 - 24 8 am - 5 pm In person 
This course is a historical, sociological, and political study of Catholic education in the American and global context. The course will center on the perspectives of those marginalized from the traditional narratives of Catholic education and help students make connections to current issues in Catholic schools. 
CEL 641/741 Mission and Development with Dr. Duffy
Week Three June 26 - June 30 2023 8 am - 5 pm In person 
Mission and Development are at the core of the Catholic School. Mission is the historical foundation and promise of what we say we are about. Development allows us to achieve our mission. Strategic plans emerge from Mission and Development. Catholic Identity is articulated and manifested through mission and development. The course will allow students to explore deeper meanings of both mission and development, to think differently and challenge current structures and frameworks, in order to build strong, sustainable, asset based, faith filled institutions of integrity.