The Writing Center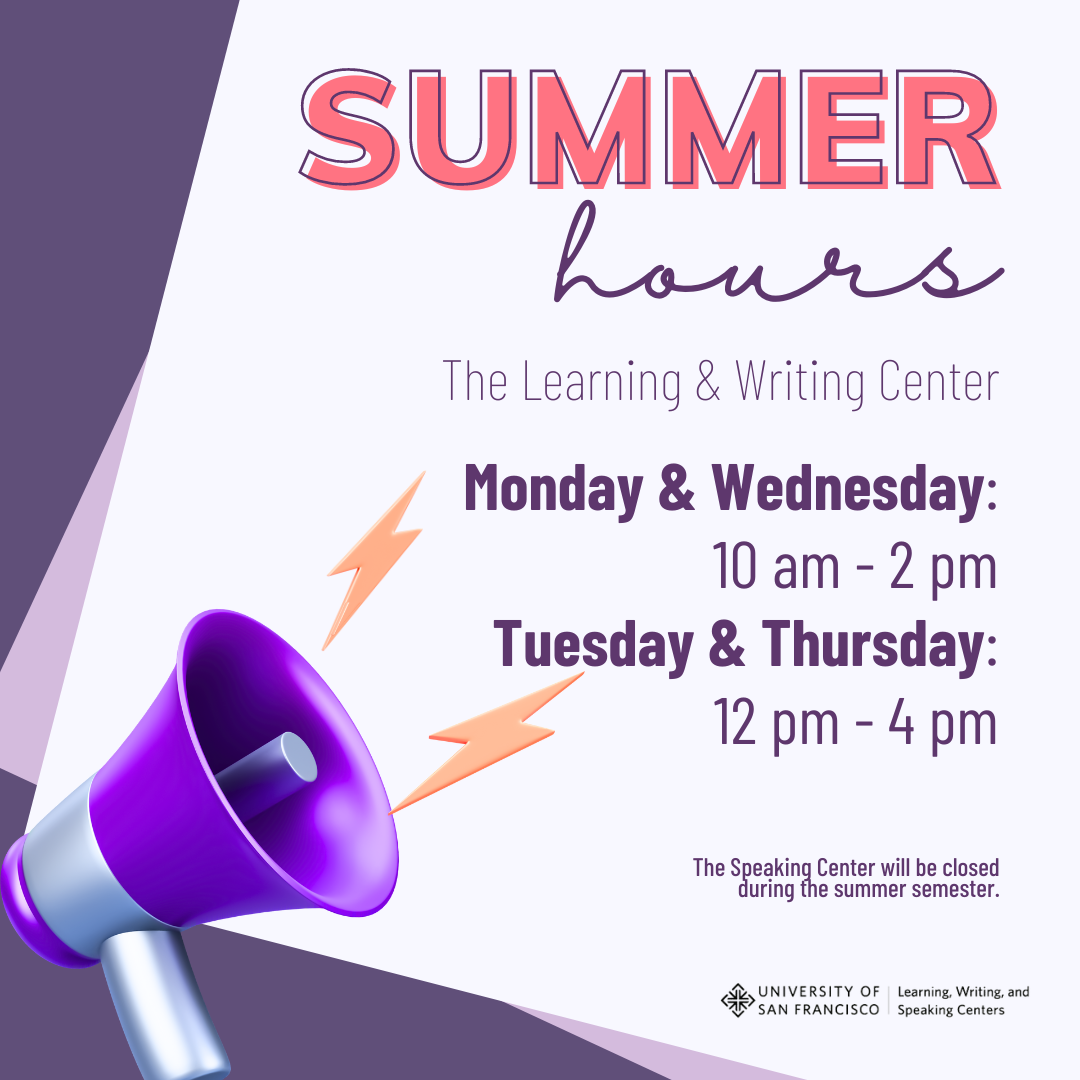 Mission Statement: The primary goal of The Writing Center is to empower students as writers by fostering their knowledge and skills in development, organization, style, and structure. Through one-on-one interactive conferences, we support all student writers working in different disciplines and rhetorical contexts.
If your Zoom window does not open at your appointment time, please check your email.  Your consultant should send you an invitation directly. For other questions, contact the LWSC Front Desk at 415-422-6713. You can also use the chatbox on any of our web pages (bottom-right corner) to connect with a Front Desk staff member in real time during business hours.
Our regular hours of operation:
Monday: 10 AM - 2 PM
Tuesday: 12 PM - 4 PM
Wednesday:  10 AM - 2 PM
Thursday:  12 AM - 4 PM
Friday, Saturday, & Sunday: CLOSED
Here at The Writing Center, we help students with all aspects of the writing process:
Getting ideas
Adding support
Organizing
Editing
Citations
and more!
Please follow these guidelines to prepare for your conference.
At the Writing Center, Writing Consultants are there to help you become the best writer you can be!   Every paper can use the second set of eyes.  Come see us!  
Please give us feedback on your Writing Center session  (Note: Consultants might not get through the entire paper or address all writing issues in one session.)
Please make only one appointment at a time. Appointments can be made online.  Please have the courtesy to cancel your appointment if you cannot make it. You can cancel your appointment on Salesforce.  If you are experiencing problems connecting on Zoom, please use our Chat at the bottom of the page.  If you miss 3 appointments without canceling them, you will not be able to schedule one for the rest of the semester.  
All appointments are made on the hour and half-hour but begin 5 minutes later to allow for turnaround time.  The actual conferencing time is 25 minutes. 
If you have a Google Doc, you can drop the link in the chat when your appointment begins. Alternatively, here are instructions on how to set up Google Docs and Zoom for your appointment.  
New!  Editing Tools!  Try one of these programs for grammar and editing before you come to your conference.  Save time!  Please give us your feedback about how they worked for you.
This program will find basic grammar and punctuation errors. Click on "Add to browser - it's free" (Firefox, etc.). Click on the orange "Create Account" button and use your USF email to sign in.  Click on "Continue to free account".
Please rate this program.  Grammarly Feedback
For the Writer's Diet, watch this video first on nominalization (Zombie Nouns). 
This program helps you edit for style and conciseness.  See if your writing is fit or flabby.
Please rate this program.  The Writer's Diet Feedback