Internship Admissions, Support, and Initial Placement Data
Date Program Tables were updated 07/12/2022
Internship Program Admissions
Briefly describe in narrative form important information to assist potential applicants in assessing their likely fit with your program.  This description must be consistent with the program's policies on intern selection and practicum and academic preparation requirements:
The following minimum qualifications must be met in order for applicants to be considered for the CAPS Internship in Health Service Psychology: Current enrollment in an APA- or regionally accredited (accrediting body recognized by the U.S. Secretary of Education) doctoral program in Clinical or Counseling Psychology (preference is given to applicants from APA-accredited programs); successful completion of comprehensive examinations with completion of all formal graduate coursework and supervised practicum experiences and advancement to doctoral candidacy; a minimum of 400 direct contact intervention hours at the time of application deadline, which may include practicum training accrued during a terminal masters program (see APPI section "Summary of Practicum Experience/Intervention Hours/Total Completed Hours"); documented approval of internship readiness by academic training director.
CAPS recognizes the challenges to training as a result of the COVID-19 pandemic. While preference will be given to applicants who meet the minimum 400 direct contact intervention hours, applicants with fewer intervention hours will be considered for the 2022–2023 training year as long as all other prerequisites are met.
Does the program require that applicants have received a minimum number of hours of the following at time of application? If Yes, indicate how many:
Total Direct Contact Intervention Hours
Yes
Amount: 400
Total Direct Contact Assessment Hours
No
Amount: N/A
Describe any other required minimum criteria used to screen applicants:
Clearly delineated interest in working within a college or university setting or working with college- or university-age populations; experience conducting intake evaluations; and an appreciation for and experience in working with students from diverse multicultural backgrounds and identities. Favorable consideration will be given to applicants who have successfully proposed and will have made progress toward completion of their doctoral dissertation by the start of the internship year.
USF conducts background checks on all new interns. All candidates for full-time and part-time assignments with the University must authorize a lawful background check as part of the application packet. An offer of employment is contingent on verifying the accuracy of the information provided by the candidate, and the background check results will determine suitability for employment at the University.
While faculty and staff are not required to be vaccinated for COVID-19, it is highly encouraged to be fully up to date with COVID-19 vaccinations, including boosters when eligible.  Vaccination including the booster dose is a vital tool to reduce the presence and severity of COVID-19 cases in the workplace and in our communities as a whole. For all current employees who have stated that they are fully vaccinated, the university requires proof of vaccination through a vaccine attestation form.  This includes employees working remotely. All submitted information is confidential and managed under the university's data security systems.  Presently, all employees, regardless of vaccination status, must wear face coverings on campus when indoors for the foreseeable future (with the exception of Koret Health and Recreation Center).  
Equal Opportunity and Non-Discrimination Policy
The University is an equal opportunity institution of higher education. The University does not discriminate in employment, educational services, and academic programs on the basis of an individual's race, color, religion, religious creed, ancestry, national origin, age (except minors), sex, gender identity, sexual orientation, marital status, medical condition (cancer-related and genetic-related) and disability, and the other bases prohibited by law. The University reasonably accommodates qualified individuals with disabilities under the law.
 
Program Disclosures
| | |
| --- | --- |
| Does the program or institution require students, trainees, and/or staff (faculty) to comply with specific policies or practices related to the institution's affiliation or purpose? Such policies or practices may include, but are not limited to, admissions, hiring, retention policies, and/or requirements for completion that express mission and values. | No |
| If yes, provide website link (or content from brochure) where this specific information is presented | N/A |
Financial and Other Benefit Support for Upcoming Training Year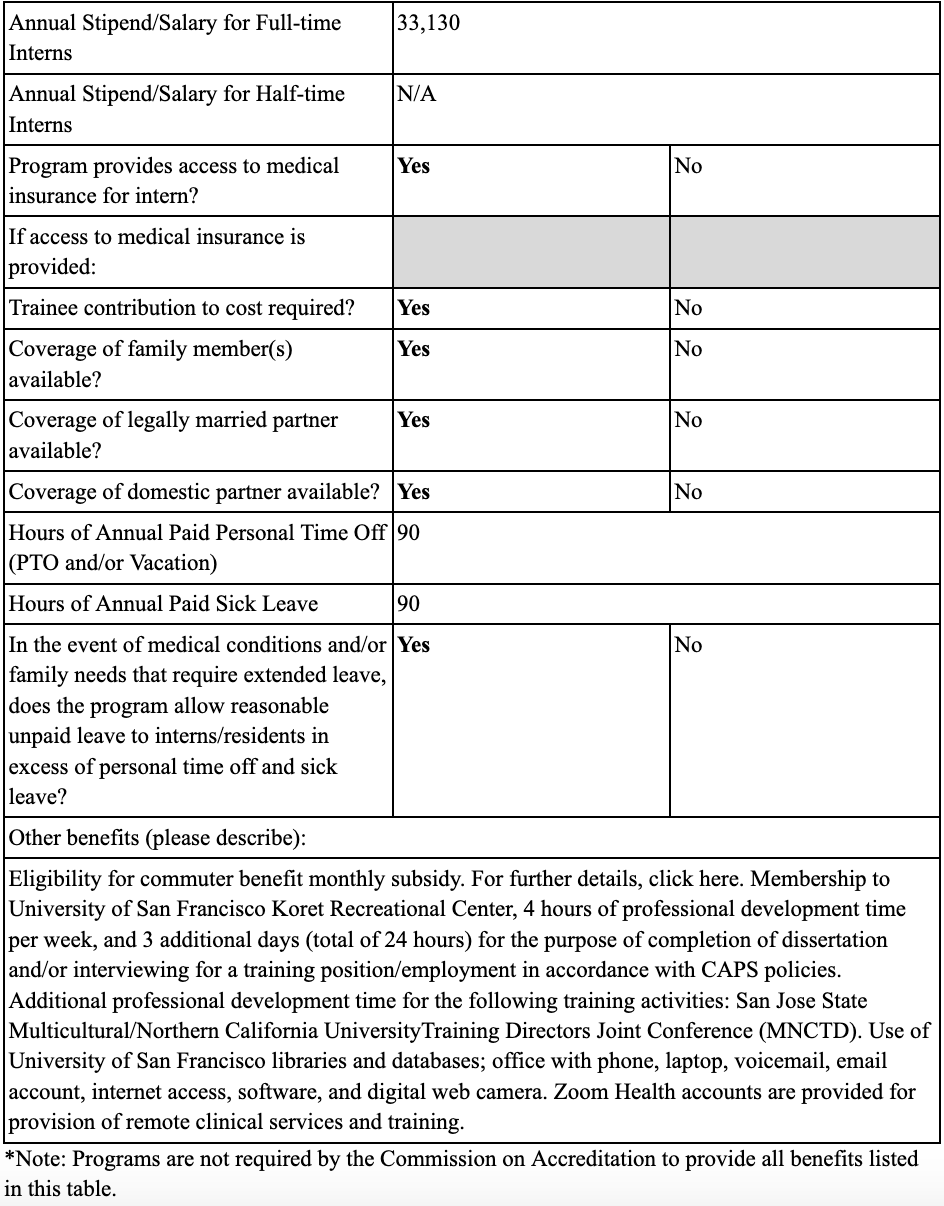 Initial Post-Internship Positions
(Provide an Aggregated Tally for the Preceding Three Cohorts)