Conference Programming Information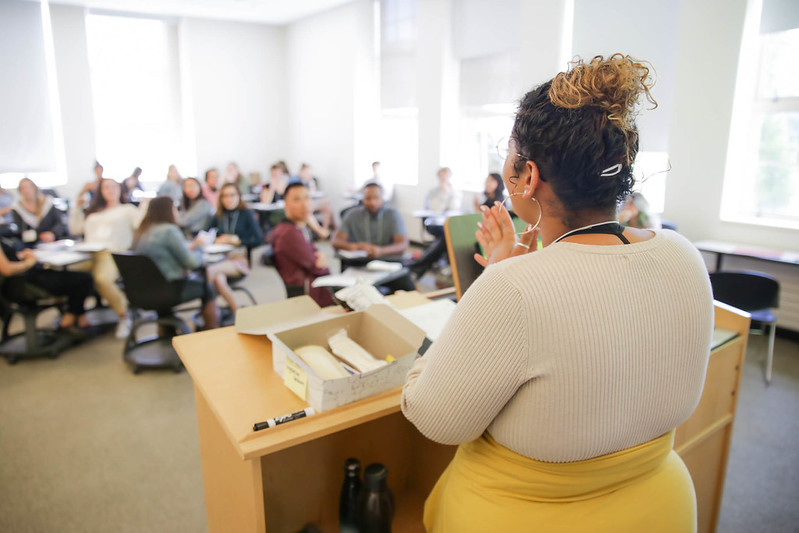 Conference Programming Overview
The purpose of any conference is to create space for individuals with common interests to come together and share knowledge. The Student Leadership Conference serves as an opportunity for students of all collegiate levels to come together to learn about and discuss issues, ideas, and work that focus on a relevant topic/theme to the USF community. 
Each year, we encourage students to consider submitting a "program" that creates space for conference attendees to explore an area of interest and/or expertise by sharing knowledge, offering a best practice, facilitating a discussion, and so forth. You do not need to have prior experience with presenting a program at a conference, in fact most don't! This conference is a great first step for any student who is interested in learning the ropes of presenting at a conference. 
2021 Conference Programming Focus
This year's conference focus is all about our theme, "Click Refresh! Reconnect With Your Server. Our categories this year fall into the following three areas: Unplug, Power On, Reconnect 
Unplug
Unplugging refers to disconnecting yourself from things that drain you. In order to recharge the power drained from our everyday obstacles, we should first learn to disconnect and free ourselves from barriers that keep our energy from flowing. How will you make yourself a priority? What steps will you take to manage your well-being? What does doing this successfully look like?
Power On
Powering on is all about finding where you get your 'charge' from. Powering on goes in tandem with action items and putting our energy towards the things we care about, like our hobbies, passions, and leadership development. Where does your power come from and what motivates you? Where will you focus your power? 
Reconnect
To reconnect means to welcome back into your life the things that we may have left behind pre-pandemic. In the ultimate goal of reconnecting, we are utilizing the energy from our sources to rebuild relationships that stimulate a consciousness of service and leadership, producing an environment of unity and advocacy! What have you been keeping on hold? What have you learned about yourself throughout this process?
Introducing our 2021 Conference Programs
SESSION 1 • 2:00PM - 2:45PM PT
SESSION 2 • 3:00PM - 3:25PM PT
Session 3 • 3:30PM - 4:15PM PT
The past year has been transformative for many people and has changed the way we interact in the workplace and beyond. As we transition back to working and learning in person, it is important to establish boundaries. In this program, we will discuss how to reconnect with your coworkers, fellow classmates, and yourself through identifying your needs and setting boundaries to accommodate them.
Presenters: Andrea Alejandra Capella-Castro, Jacob linde, and Alina Reyes
Category: Reconnect
Andrea was born in National City and raised in Mexico. She grew up moving back and forth from Tijuana, BC, and Cd. Juárez, Chih. When she finished high school in Tijuana, she made the decision to move to San Diego to study college. After two years she transferred to USF and moved to her dream city, San Francisco. Andrea is now a senior Politics major and Latin American Studies minor at USF. She got involved on campus by joining TransferNation club, which later encouraged her to become a Transfer Student Representative at ASUSF Senate. Now, she works at SLE as a Student Organization Consultant. She loves exploring the city, museums, and most of all escape rooms.
Raised in San Francisco, Jacob transferred back to his hometown after attending school in Vancouver, BC. Jacob is a senior majoring in environmental studies. Although his entire first year at USF was spent learning online, Jacob has gotten involved in the community by serving as the president of BIPOC Students for the Environment and now working for SLE as a Student Organization Consultant. In his free time, Jacob likes exploring the bay area with his camera, finding new places to eat, and spending time with friends.
Born in Southern California and raised in the Bay Area, Alina is a California native through and through. She is currently in her fourth and final year at USF, majoring in Politics and International Studies with minors in Philippine Studies and Public Service/Community Engagement. On campus, Alina previously served on leadership for Kasamahan at USF and USFtv, and worked for University Ministry and SHaRE. Her involvement and passion for her communities has led her to her current role, where she serves as a Student Organization Consultant for SLE. She enjoys live music, good food, and spending time with friends and family.
With DACA (Deferred Action for Childhood Arrivals) being almost 10 years old, how have universities grown to support undocumented students? This workshop will reconnect participants with the current landscape of support for undocumented students, how to be a proactive undocually and how to be in community with undocumented students. Join Gladys and Dulce to discuss the need to support undocumented students and how to cultivate a more equitable community on your own campus!
Presenters: Gladys Perez and Dulce Martinez
Category: Power On & Reconnect
Gladys Perez is the daughter of Indigenous immigrant parents from Oaxaca, Mexico, a proud Bay Area resident, and a first-generation college graduate. At USF, she works for the Office of Diversity Engagement and Community Outreach where she supports various diversity, equity, and inclusion initiatives such as the Working Group to Support Undocumented Students, the Bias Education and Resource Team (BERT), and the Womxn of Color Leadership Conference. Outside USF, Gladys likes to care for her 25+ plants and learn to cook her mom's vague recipes.
Born in Mexico, Dulce Martinez grew up in the Bay Area where she attended the College of San Mateo then soon after transferred to UC Riverside allowing her to get a B.A. in 2018. Being a first-generation undocumented Latina has influenced Dulce and motivated her to pursue a degree in Higher Education and Student Affairs Master's program at USF. As Dulce takes on her second year in the HESA program, she is currently working in the Cultural Centers as a graduate student intern, is part of the Working Group to Support Undocumented Students, as well as part of a graduate student organization, Dismantling Walls. When Dulce is not busy, she enjoys going on walks and binging on the latest shows and movies.
This pandemic has shown us the need for new/creative solutions, a true peek at the importance of innovation. Are you curious about the relationship between innovation and leadership? You've come to the right place! Join us as we dive into Dr. Linda Hill's research of collective creativity to learn how to lead for innovation.
Presenters: Jessica Gutierrez
Category: Power On & Reconnect
Jessica Gutierrez is originally from the state of Colorado. They attended Colorado State University where they received their Bachelor of Arts in Sociology with a minor in Interdisciplinary Leadership Studies. Jessica is currently working as an Assistant Residence Director for USF. Leadership development played a large role in their undergraduate experience and they are always looking for ways to pass that knowledge forward. Jessica is passionate about creating a leadership development curriculum through the lens of social equity.
The University of San Francisco is ranked as one of the most racially diverse universities in the United States. When we talk about diversity and inclusion, however, we often neglect to mention our spiritual backgrounds and faith traditions. As a Jesuit institution, how can we be more inclusive and ensure our students, faculty, and staff feel religiously and/or spiritually welcomed on campus? Join us in this interactive seminar to learn more about University Ministry's plans for Interfaith dialogue, programming, and engagement on campus, and why it's important. Come prepared to share a little bit about your own faith background and/or spiritual journey as well! We invite you to bring a sacred object from your religious/spiritual/cultural tradition, or else a "heartifact," something that you draw upon for inspiration and purpose, so we can share with the group.
Presenters: Dr. Angélica Nohemi Quiñónez and Kayla Schneider-Smith
Category: Reconnect
ACCESS THE RECORDING HERE
Dr. Angélica serves as the Interim Director of University Ministry. She is a San Francisco native and first generation college graduate. She is a graduate of St. Ignatius College Preparatory, Santa Clara University, a proud double Masters Don from USF, and recently earned her doctorate from the University of Southern California. Her dissertation focused on the sense of belonging and inclusion of non-Christian students at Jesuit universities.
Kayla is a graduate student in the Masters of Fine Arts in Writing Program at USF, focusing on poetry. They are also a Resident Minister on campus, where they help organize Interfaith Prayer Services and Interfaith Student Community lunches, and support students in the dorms with their academic, emotional, and spiritual questions/concerns. Raised as a Reform Jew to an ex-ultra-orthodox (Haredi) Jewish mother and Presbyterian father, Kayla is passionate about bringing people together in community from diverse faith and non-faith backgrounds to better understand their similarities and differences and enhance their faith journeys. They love writing, reading, playing piano and guitar, and exploring personality typing theories.
How can art help us connect to ourselves, our communities, and the world? This workshop explores how art making in all forms - murals, movies, books, dance, etc. - can be a healing process. We will take a look at how well-known and local artists have experie nced art as healing in their own lives. But, art is not only reserved for artists in studios or directors behind cameras. The workshop will conclude with participants doing their own art practice and sharing the process with each other.
Presenters: Louise de Oliveira
Category: Reconnect
Louise was born and raised in San Jose, California and is attending USF not only to pursue their academic passions, but to work in social advocacy on campus, in SF, and beyond. Thus far, Louise has worked internships with two local nonprofit agencies: CALPIRG and San Francisco Rising. On campus, they have been a part of Martín Baró Scholars, Magis Emerging Leadership Program, and Ester Madriz Diversity Scholars, and is an active member and RA for the Saint Ignatius Institute. Furthermore, they are a McCarthy Fellow and will be working with San Francisco's Youth Commission, as well as serving as Layout Editor for USF's student newspaper, the Foghorn. Louise hopes to use their experiences to help build a brighter future for everyone.
How do we continue in the pursuit of our dreams in the midst of grief, loss, and change on a global scale? Join Crystal Vega in a candid conversation about finding new meaning in their career and coming into their gender identity in the midst of a pandemic. This workshop explores finding the motivation to try (and fail) to do new things.
Presenters: Crystal Vega
Category: Reconnect
Crystal Vega (they/them) is a nonbinary, Mexican American professional who graduated with a Bachelor's degree in Urban Studies and Critical Diversity Studies from the University of San Francisco in 2018. Crystal lives in Bellflower, CA with their partner, Austin, and six furry friends (i.e., two bunnies, two guinea pigs, one dog, and one crested gecko lizard). They hope to continue creating workplace cultures where everyone can show up as their most authentic self. Crystal is committed to LGBTQ+ advocacy, racial justice, and youth civic engagement with the goal of running for local office in the future.