WIN a $100 USF Bookstore Gift Card! Register Now.
Create a More Accessible Canvas Course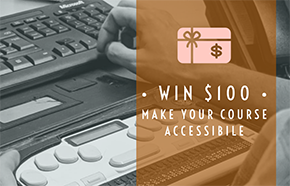 ETS is holding a competition for faculty who are interested in improving the accessibility of their Spring Canvas course using Ally. Ally is a tool embedded in Canvas that helps identify documents needing remediation. Three winners will each receive a $100 gift card to the USF Bookstore.
The Creating a More Accessible Canvas Course competition is designed to inspire USF full and part-time faculty to create an accessible spring 2020 Canvas course using Ally.
The purpose of the completion includes the following:
Learn how to effectively use Ally to create a more accessible Canvas course.
Learn how to remediate Word, PowerPoint and PDF documents and images.
Introduce to students how to download alternative file formats to meet student's learning needs.
Share the results of your accessible Canvas course during a lunchtime ETS-hosted share in late March.
An ETS team member will support your learning of Ally, remediation of course documents, and best practices for teaching students how to access course documents.