Instructional Design What is Instructional Design?
Instructional Designers support faculty to integrate active learning, apply research-based best practices for course design, and implement educational technologies effectively.

We are a resource for you as you re-think, design or re-design your courses.
 
The instructional design team supports instructors' use of educational technology in the context of their course content, cohort and teaching style, and offers input on multimedia and course content design principles to optimize student learning and engagement.
Our Services
At USF, each school and college has a dedicated Instructional Designer to assist you with your instructional needs. Instructional Designers and Multimedia Developers are available for 1:1 or small group consultations, workshops and support in course multimedia production. Follow the links below to learn more.
USF TEAch
The USF Instructional Design team is excited to announce the launch of USF TEAch — a database that centralizes and contextualizes a wide range of USF learning and teaching techniques and resources, providing instructors with the tools to teach, engage, and assess students more effectively. Learn more about the challenges and successes of fellow faculty and connect with the latest research. Explore USF TEAch.
USF Online Course Design Program
The USF Online Course Design Program is a semester-long faculty development program supporting the design, development, and facilitation of successful online courses. Faculty are introduced to online learning best practices, innovative use of technology, and institutional quality standards with the support of the Instructional Design team. Learn more about the program, process for seeking approval to develop hybrid and online courses, and training expectations. Learn more about the Online Course Design Program.
HyFlex Instruction
Learn more about HyFlex teaching and learning at the University of San Francisco.
Dons Template
Since Spring 2020, the Instructional Design team has supported the Dons Template for Canvas, intended for broad faculty use. This template provides easy-to-understand prompts to help you design a dynamic digital component for your courses, as well as a more consistent user-experience for your students across their courses. Find more information here.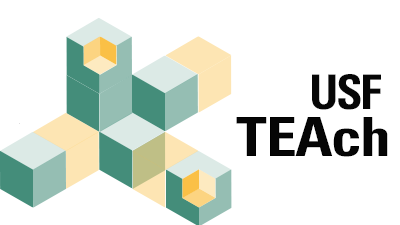 USF TEAch Resource Library
Explore our database of USF learning and teaching techniques and resources.