Dons Template
With the start of the spring 2020 semester, the USF Instructional Design team is pleased to introduce the Dons Template for Canvas, intended for broad faculty use, teaching primarily face-to-face courses. This template provides easy-to-understand prompts to help you design a dynamic digital component for your courses, as well as a more consistent user-experience for your students across their courses. It's intuitive, good-looking, and built on research-based course design best practices that will help reduce time spent designing your Canvas course, with advantages including:
A customizable, inviting home page to welcome students to your course
A modular structure to easily organize your lesson materials
Getting started resources for students to head-off commonly asked questions
Placeholder pages and text to easily input essential course information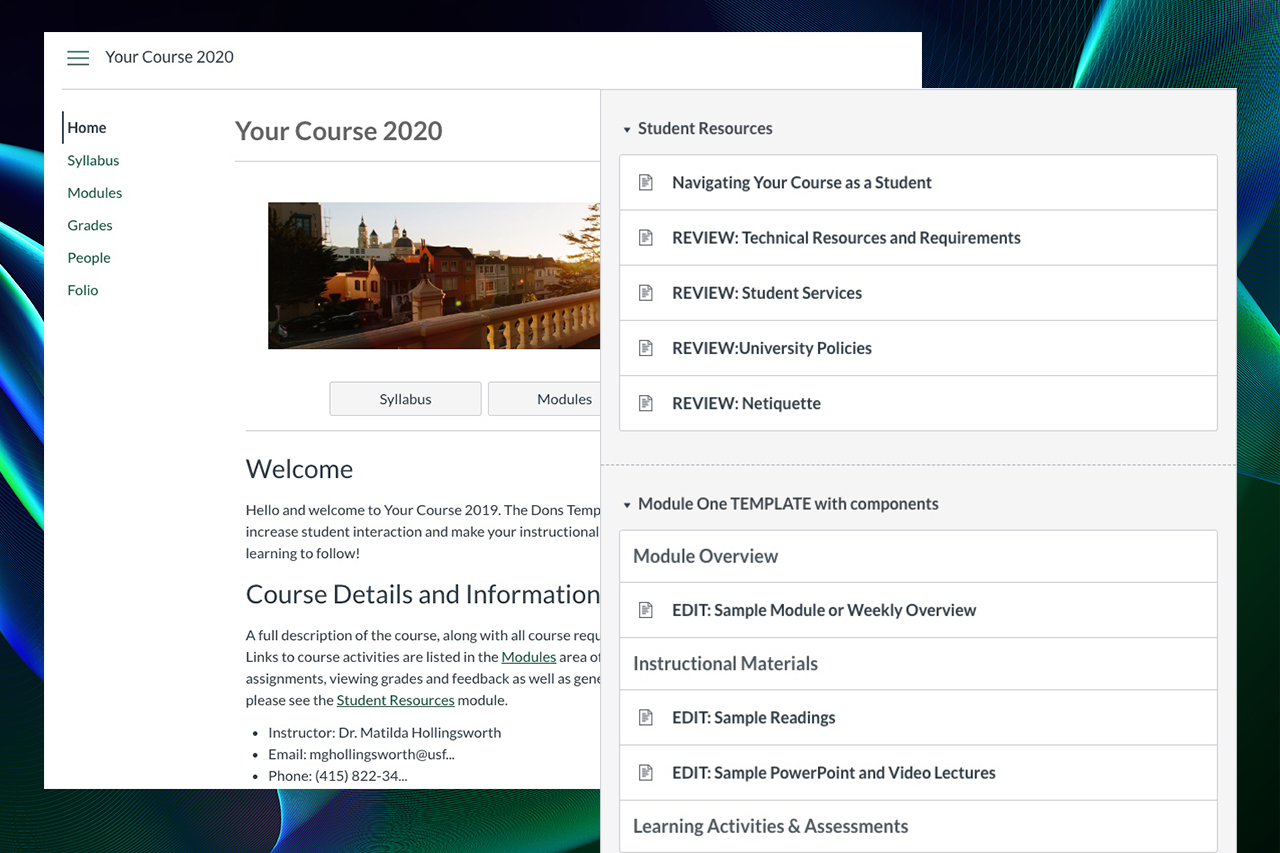 How can I access the Dons Template?
The Dons Template is designed to be immediately accessible—you can access it from Canvas Commons and apply it directly to your Canvas course shell in Banner. The template includes links to the set up handbook as well as an exemplar course.
To get started, review this PDF with instructions: Importing the Dons Template into Your Canvas Course 
What are the research-based course design best practices that underpin the Dons Template? 
The Dons Template a reflection of the Quality Matters Higher Education rubric standards for blended courses, with consultation from over a dozen universities using LMS templates. The template is built on rich feedback gathered from USF faculty and students through focus groups and pilots over the past two years. To learn more about the Quality Matters Higher Education rubric standards, visit the Quality Matters website.
How do I learn more about Canvas and the Dons Template?
The USF Instructional Design team provides consultations on designing courses, including taking advantage of the Canvas platform to improve students' experiences with your technology-enhanced courses and incorporating best practices on course design, active learning, and accessible teaching. Sign up for an Instructional Design consultation to learn more.
The USF Instructional Technology and Training (ITT) team offers self-guided training materials and consultations on educational technologies to support your transition to technology-enhanced teaching and learning. Visit the ITT resource page on Canvas to learn more about USF's learning management system.