Simple Syllabus
What is Simple Syllabus?
Simple Syllabus is the online platform that enables instructors to create an easy-to-manage, interactive syllabi for their courses at USF.
How did Simple Syllabus get adopted?
USF selected Simple Syllabus after piloting the platform with 50 faculty and their students during the 2019–2020 academic year. (Review survey data from the pilot.) After being deferred for one year due to the pandemic, Simple Syllabus will be available in fall 2021 Canvas course shells beginning in July.
What are the benefits of using Simple Syllabus?
Integrates into your Canvas course
Provides templates that are visually appealing, easy to use, and have a consistent look and feel
The standardized look and feel can more easily help students find the information they are looking for
University policies will be automatically populated into your course syllabus
Templates can be customized for specific program or departmental academic policies and guidelines
Provides an interactive navigation menu so that students can more easily locate course information and specific sections in a syllabus
Instructors can see which students have viewed the course syllabus and how often they viewed it
Centralized repository for storing and sharing course syllabi
Students can use a personalized dashboard to view all of their course syllabi and materials list in one place
Demonstrates support of USF's Go-Green (paperless) initiative
Designed to meet accessibility standards outlined as part of Section 508 so that all students have an equal opportunity to learn
Incorporated into the Canvas Dons Template
Syllabi can be downloaded as PDF document
Syllabi can be copied into future semesters, as needed
General Navigation for Faculty
When will Simple Syllabus be available?
Simple Syllabus will be available Summer 2021 in your fall Canvas course shells. Instructor led training will be available beginning July 1st. ETS is promoting the broader adoption of Simple Syllabus for the Fall 2021 semester. 
How do I get started with Simple Syllabus?
Click here to see a demo Canvas course with Simple Syllabus.
Please sign up for a training session to get helpful tips on how to use the template editor and customize it better to fit your needs. If you have any questions, please contact itt@usfca.edu
How to Edit Simple Syllabus 
Where are the New Course Schedule Dates?
The new course schedule dates can be found in the help text area.
Scroll down to find the Course Schedule component and click the yellow arrow to expand the Help text box as shown in the screenshot below.
Click the link to access all your customized class meeting dates in a separate document.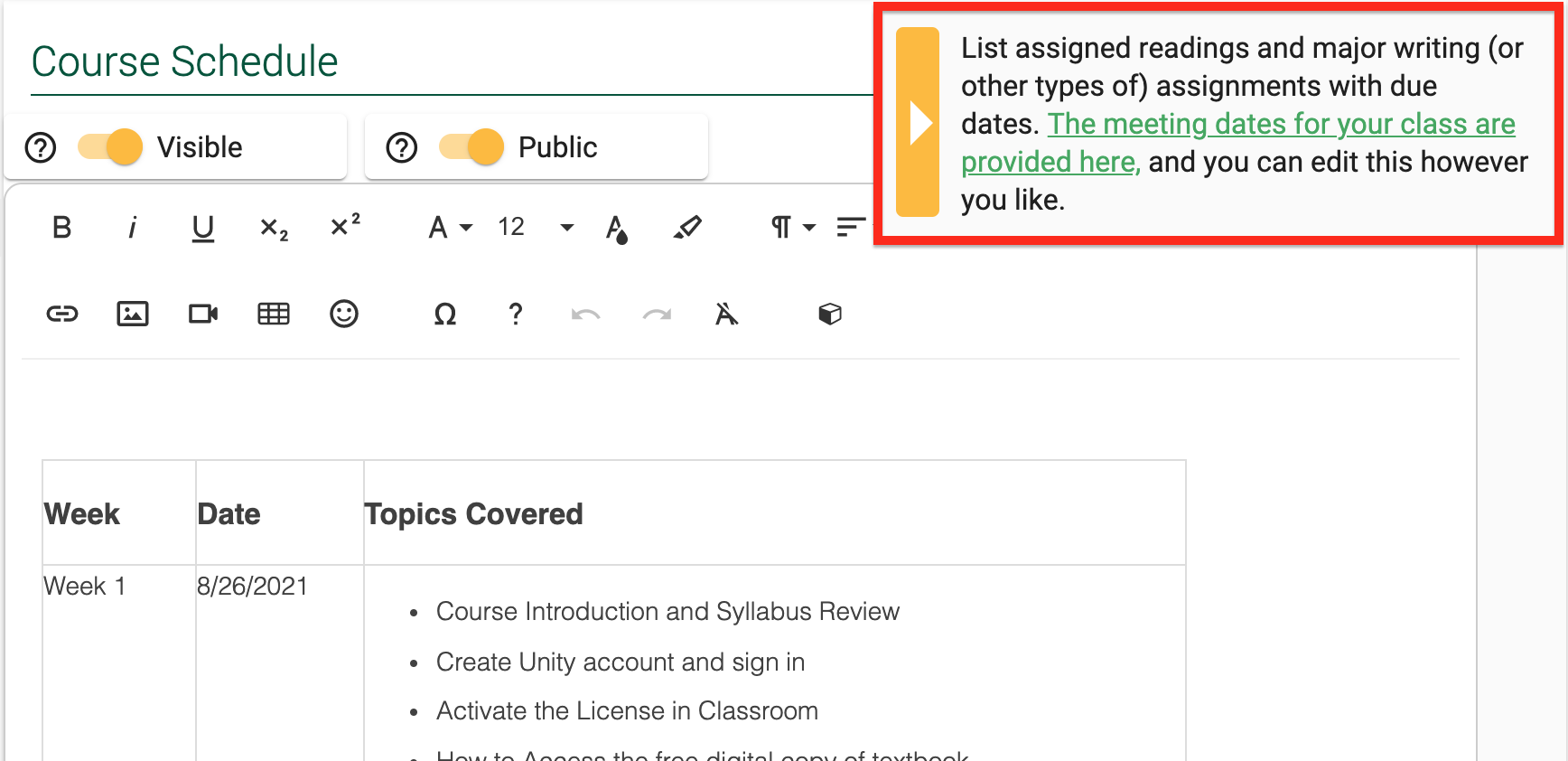 Frequently Asked Questions
Visit the FAQ page to find answers.
 
Accessibility Statement