Media Services
Media Services coordinates student videographers to film class sessions, performances, and other live events, and assists with transferring media from older formats to newer digital formats. For example, VHS tapes can be transferred to DVDs, and disks can be transcoded to digital formats.
These services are by arrangement only. Please contact our office at (415) 422-2003 or mediaservices@usfca.edu. Consult the information below if you have questions about making a request.
Request a Media Services recording on VirtualEMS
Contact Us
Contact Media Services at (415) 422-2003 or mediaservices@usfca.edu. Media Services is located in the Lone Mountain Garden Room (click for printable map). 
Note: For information on equipment checkout such as camcorders, iClickers, recorders, etc., please contact Instructional Technology and Training (ITT) at (415) 422-2223 or itt@usfca.edu.
Office hours (staffed): 9:00AM to 5:00PM, Monday through Friday

Operational hours: 9:00AM to 9:00PM, Sunday through Saturday (excluding university holidays)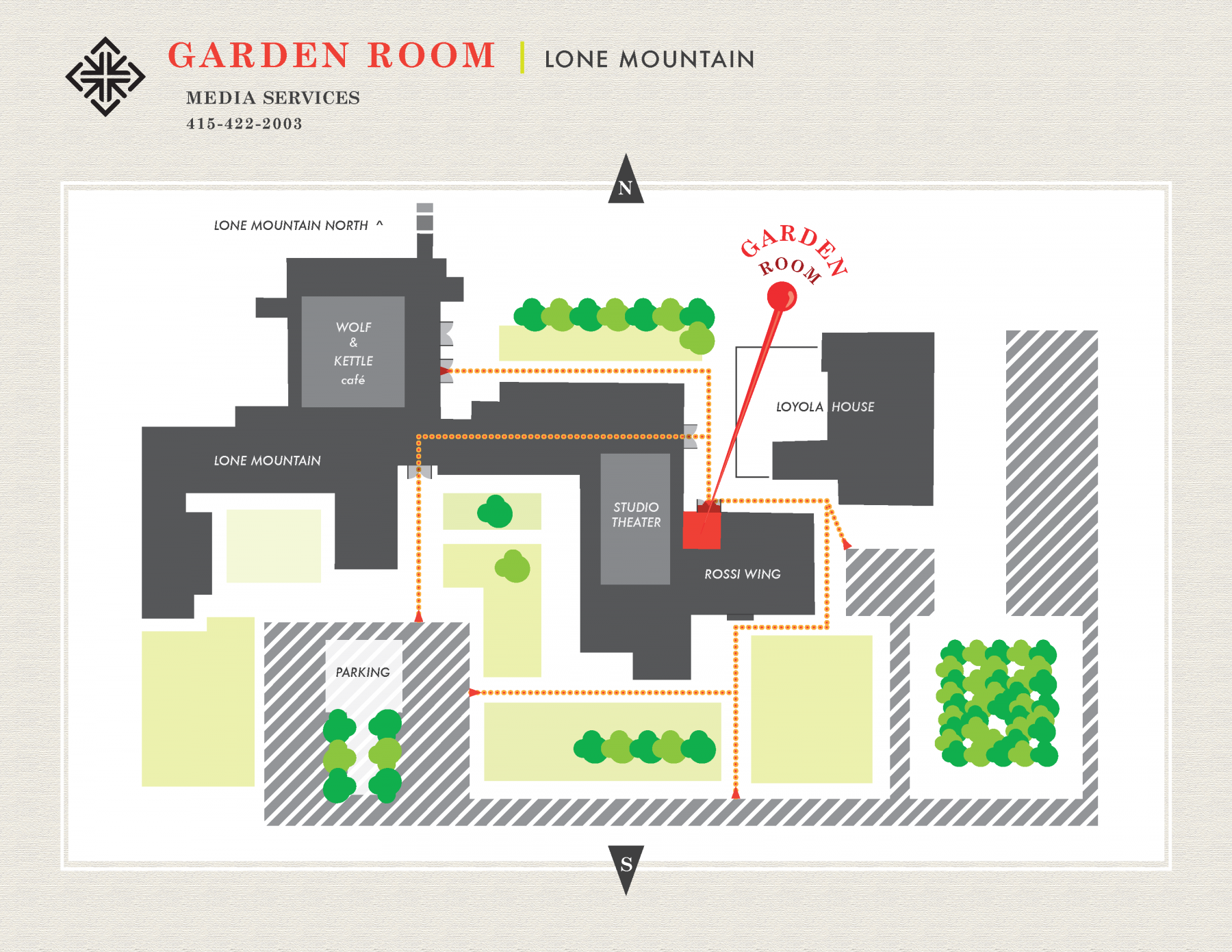 Please note that Media Services is reliant on student employment and availability. If you believe your event may go longer than requested, please consider extending the length of the requested recording. Media Services cannot guarantee the technician will be available to stay later than booked.
For routine inquiries, contact Media Services at (415) 422-2003 or mediaservices@usfca.edu. For urgent inquiries, please contact the ITS Help Desk at (415) 422-6668.
Classroom recordings: Student videographers use compact camcorders on a tripod. Please note there is not an option to use external microphones; recordings will capture audio from the entire room. Processing recordings generally requires 2-3 business days, after which videos will be available for distribution.
Faculty/Staff Candidate Presentation: Teaching demonstrations, candidate talks, interviews, etc.
Lecture: Guest lectures, repeated recordings, workshops, etc.
Student Presentations: Individual or group student presentations; can be separated per presentation
Large venue recordings: Student videographers use professional camcorders with the option to connect external microphones and the venue's audio system. Processing recordings generally requires 5-7 business days, after which videos will be available for distribution. Please note videos requiring closed captioning (e.g., that will be available for public viewing) require an additional 2-3 business days.
Keynote Speaker: One speaker with microphone
Multiple Speakers: Multiple speakers speaking back-to-back
Panel: Multiple speakers speaking simultaneously
Performance/Other: Dance recitals, concerts, theatre performances, etc.
As your recording may encompass many of this criteria, please select the option that is most generally appropriate for the event (e.g., a keynote speaker with a panel-led Q&A = Panel).
If your event contains an agenda, names of speakers for title cards, and/or other information, please indicate so in the EMS webform. Email additional information to mediaservices@usfca.edu with the event name and date in the subject. 
Request DVD/VCR Conversions
After submitting your request, please contact Media Services to schedule a consultation and hand-off of media.
VHS to DVD and/or digital copy (.mov)
DVD to digital copy (.mov)
miniDV to digital copy (.mov)
CD to digital copy (.mp3)
Existing digital copies to other formats
Disc media to be duplicated (DVDs and CDs)
A VHS to DVD recorder is used for converting VHS tapes to DVDs.
An Elgato video capture device is used for converting analog media to digital files.
Handbrake is used for transcode ("rip") DVDs to digital files.
Adobe Premiere Pro is used for all post-production and conversion between file formats.
Please contact Media Services to schedule a drop off for the media being converted.
We ask that clients provide blank DVD-R discs if more than 2 copies are requested. Contact our office if you need assistance acquiring discs.
A maximum of 7 media to be converted can be included in each request.
Although the ITS Help Desk can help coordinate drop off and deliveries, we recommend personal delivery of all media.
Streaming Media
ITS maintains a streaming video server powered by Ensemble for the USF community, where videos are accessible through weblinks and can be embedded into Canvas courses and other webpages. Contact Media Services for more details about this service.