Faculty Spotlight
Instructional strategies to Improve Access and Equity for Students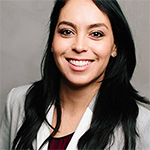 Professor Daniela Domínguez employs a mix of instructional strategies and technologies to better address issues of inclusion, diversity, and educational equity for her students in USF's Marriage and Family Therapy graduate program.
Learn More on access and equity
---
3D Printing : Transforming How Students Learn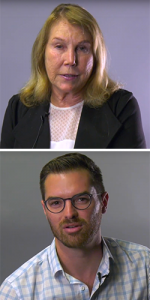 See how Susan Stryker and Johnathan Cromwell in the Entrepreneurship, Innovation, and Strategy program at the School of Management give  students the opportunity to solve problems in more meaningful and tangible ways using 3D Printing.
With 3D printing, experiential learning can also be more fully realized, because it allows students to think of an idea, implement a design, and reflect on the process. By taking action with their assignments, they can have a real experience that enables more effective learning and knowledge retention.
---
Exploring the Teaching Toolbox in Data Science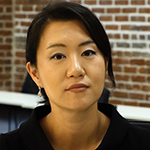 To support the diverse learning needs of her MS in Data Science students, see how Dr. Diane Woodbridge recalibrated her teaching methods, and "flipped" her classes.
Watch Video On Teaching toolbox in data science »
---
The Joy of Rhetoric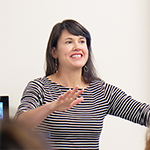 When Assistant Professor Dr. Leigh Meredith tasked her first-year students to create group videos exploring the rhetoric of media messages, she inspired their interest in the foundational principles of rhetoric.
Watch Video On The Joy of Rhetoric »
---
Real-time Formative Assessment and Student Learning in Biology

Dr. Kai Blaisdell, Adjunct Professor in Biology, engages her students with polling and gathers insight on their learning to inform her instruction.
Watch video on student learning in Biology
---
Teaching Hybrid v.1—Finding Your Technology Threshold

For Adjunct Professor Cynthia Schultes, PhD, limiting the educational technology components in her Masters of Professional Communication course made it more manageable.
Learn More on Teaching hybrid V.1
---
Teaching Tax Law Online

Professor Josh Rosenberg in USF's online Tax LL.M. program structures his courses to support online learning. He makes small changes every semester and gets feedback from his students, support from his program, and guidance from USF's Instructional Design team to inform his process.
Watch the Video on Teaching Tax Law Online
---
USF's Doctor of Nurse Practice Program (DNP) course translates an in-class activity for online learning

The Policy and Ethical Implications for Health Care Outcomes course, developed by Nancy Selix, DNP, FNP-C, CNM, CNL, was redesigned to a hybrid format course from its original format as a face-to-face (F2F) course. Angie Portacio, MA. Ed., instructional designer (ID) for the School of Nursing and Health Professions (SONHP), met with Professor Selix, so they could examine course design options together. In bringing certain facets of the F2F course to online, several gaps were identified during the redesign process.
Learn More on In-class activity for online learning
---
From Slavery to Obama: Transforming and Preserving a Flagship Critical Diversity Studies Course

When USF Distinguished Visiting Professor Dr. Clarence Jones developed and taught his Critical Diversity Studies course, From Slavery to Obama, it was initially offered to a small group of undergraduates who half-filled the stadium-seating in an old lecture hall. Shortly after launching the course, it became clear that the material and the instructor were extraordinarily compelling and of real historical importance. USF's Critical Diversity Studies Department moved to format the course for an online audience. In 2016, the course was published online, extending its reach beyond one classroom at USF.
Learn More on From Slavery to Obama
---
Supporting Active Learning With Video

Kyoko Suda, Associate Professor, Modern and Classical Languages teaches undergraduate Japanese language 100 and 200-level classes. The challenge is finding enough class-time to allow students to practice Japanese language. Echo360 was the recommended solution because it allowed her to easily capture presentations off the computer with audio narration and video.
Watch the video on Supporting Active Learning With Video
---
Authentic Learning In Online and Hybrid Courses

Embracing the challenge of designing effective online and hybrid courses, USF's MAPC Program, headed by Academic Director, David Ryan, creates an authentic learning environment that bolsters its students' professional success.
Learn More on Authentic Learning
---
Promoting Online Group work

The Instructional Design team worked with Dr. Kelly L'Engle, Assistant Professor in the Population Health Sciences department, to bring her project-based course, Program Planning and Evaluation, online as part of the online Masters of Public Health Program.
Watch the video on Promoting Online Group work
---
Creating Multimedia Lessons (and Flipping your Face-to-Face Course)

Associate Professor Marie-Claude Couture, MS, PhD worked with USF's Instructional Design Team during Summer, 2016 to transform her face-to-face masters course, Epidemiology, into online and hybrid versions for USF's Master of Public Health program.