Technology Proficient Digital Badge for Students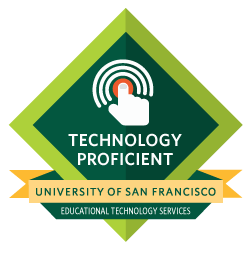 ITT is currently offering a Technology Proficient Digital badge to assist students in meeting technology goals. Attend five ITT classes, along with the completion of a small final project, to earn a badge.
Why Do I Need a Badge?
Earning a digital badge is a representation of your accomplishment or skill in a specific area.  Showcase your badge on LinkedIn or your resume to strengthen your job search or share with your friends on other social media.
Technology Proficiency
Earning a Technology Proficiency badge indicates at least three of the following competencies:
Awareness of technology tools and platforms available at USF
The ability to download and upload files
Able to use Excel or Tableau to create a spreadsheet or Tableau database
Share a Google document/sheet/presentation
Conduct a Zoom web-conference meeting
Discuss trends in emerging technologies, such as 3D printing, virtual reality, or laser cutter