Adobe For Education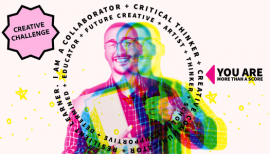 The Adobe Education Exchange is a free learning platform created by educators for educators, offering access to professional development, teaching materials, and other tools designed to ignite creativity in the classroom. The goal is to help educators in the following areas:
Promote creativity and digital literacy for your class providing free teaching resources such as lessons, activities, and projects
Inspire creativity using Adobe Creative Cloud Express (formerly Adobe Spark)
Offer self-paced courses to build creativity for the classroom
Professional Training for Educators
Adobe Education Exchange provides free and curated self-paced courses for educators and ready-to-use toolkits to foster professional growth.  The Adobe community offers you the opportunity to connect with like-minded educators all over the world.
Teach with Adobe Creative Cloud Express
Creative Cloud Express, formerly known as Adobe Spark, is an online and mobile design app, which comprises of a bundle of tools to help students quickly and easily create flyers, short videos, engaging web pages, and more.
ITT Training
ITT offers training for faculty, staff and students on Creative Cloud Express webpage and video (choose 'Adobe Spark Page' and 'Adobe Spark Video' under the Communication and Collaboration section)