Technology Certificate Program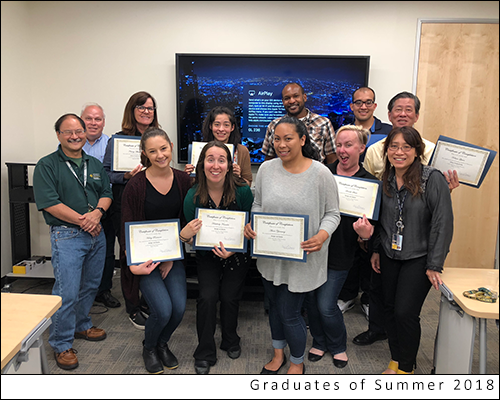 Program runs May 15th to August 16th, 2019.
ITT offers a Technology Certificate Program to assist faculty and staff in meeting technology goals.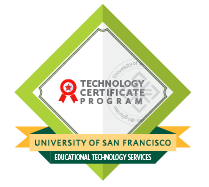 Completing a minimum of five technology classes in one track along with a work-related project by August is required to complete the certificate program.  Earn a certificate and a digital badge by completing a track. ITT will conclude the program with a lunchtime celebration showcasing all completed projects. Certificates will be awarded to all participants who complete the program requirements.
To register for the Certificate Program, first pick a track, and then select five classes from each track using the ITT Training Registration Form.
Four Certificate Tracks
Teaching and Learning with Technology - This track is designed primarily for faculty, with an emphasis on using Canvas, along with other classes that include online assessment, course design, and developing digital media for teaching and learning.
Design and Media - This track is designed to support anyone interested in becoming more proficient at working with images, desktop publishing, video and other digital media.
Productivity and Communication  - This track is designed to improve an individual's productivity when using today's office software, including the Microsoft Office suite as well as other enterprise technology tools to help streamline and improve your success in the office.
Innovation - This track is designed to provide an opportunity for users to learn about new exploratory technologies including Virtual Reality, Augmented Reality, 3D Printing, and 360 Video as well as mobile apps for creative projects.
Project Samples - Use the following guidelines to construct your projects for completion of the program.
I. Teaching and Learning with Technology
Design and deploy three or more online assessments and/or interactive learning assignments in your Canvas course site.
Create an online tutorial using screen capture (Echo Personal Capture/Screenflow) to introduce your students to a learning concept and share it with your students in your Canvas course site.
Using the 'Learning Pyramid' from both the Interactive Learning Units and Online Student Assessments as a guide, design a course assignment where the students are the teachers. This assignment should include a grading rubric and both peer and self-assessment opportunities.
Design an assignment for your Service Learning course where students create a podcast about their experiences and share them publicly on an online blog or wiki.
Reserve a digital video camera for your class from the ITT for a week and have students create a training tutorial about a topic/learning outcome in your course.  Share them with the classmates in a Canvas Discussion or course wiki.
Revise your syllabus to include at least one rubric.
Create a Digication e-portfolio branding yourself or for a class.
Design and print your own 3D object; or print an object useful for your office.
II. Design and Media
Create a website using Google Sites or USFblogs. Include a YouTube video, two stand-alone pages, and some blog posts.
Create an online Google Form, and embed it into a web site.
Create a personal blog or a collaborative blog/class blog on USFblogs.
Find a few images to produce a banner, adjust for color corrections, combine for creative compositions, add text, or prep it for web use.
Create and edit a short promotional video using iMovie.
Creative use of Adobe Spark for story-telling on a chosen topic.
Create a single page flyer using InDesign with some images; or a multi-page booklet.
III. Productivity and communication
Create a mail merge process that helps your department save time and money.
Develop a PowerPoint presentation containing multiple forms of media: text, graphics, audio or video.
Create an Excel spreadsheet that addresses a need in your department and also streamlines or automates an existing process.
Design and develop a database project that manages contacts, clients or inventory.
Create or mockup a Emma email for your department.
Create or mockup a new myUSF webpage for your department in Drupal.
IV. Innovation
Create a Spark page or a 3-5-minutes Spark video on a mobile device of your choice using Adobe Spark mobile app .
Design your own 3D model and print it.
Understand how to use Insta360 One camera and record video.
Learn Insta360 Studio and upload it to YouTube 360 channel.
Understand Team Drive and manage members and contents according to the credential.
Sign-up Now
To register for the Certificate Program, first pick a track, and then select five classes from each track using the ITT Training Registration Form.