Present at our Conference!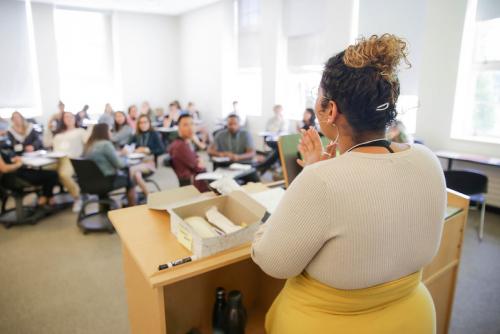 What is a Program?
A program is a workshop, lecture, roundtable, panel, or seminar that is designed by you to offer to people attending the conference around a subject matter you are passionate and/or experienced with. This year, we are seeking program proposals in 25 or 45-minute formats that focus on our theme. If you're new to presenting, you may want to do a shorter program for 25 minutes! If you've presented a workshop before, reach for 45-minutes. Either way, design your program around the time you know you need. 
To learn more about styles and varieties of programs, check out the Program Proposal Packet below for examples from previous conferences. 
How can I learn more about how to submit a program?
We got you! Check out the 2021 Student Leadership Conference Program Proposal Form by following the link below: 
2021 Student Leadership Conference Program Proposal PACKET 
How to Become a Program Presenter Workshop Recording (Monday, Aug. 30)
Where should we submit our program proposal?
Yesss! We are stoked to review your program proposal - kindly upload a PDF of your program proposal using the link below" 
Program proposal submission link 
What type of programs can I submit? 
We are looking for programs that help attendees become stronger leaders. We love programs that offer skills, knowledge, and ways of being that can motivate our attendees to become better versions of themselves. 
This year, we are looking for programs that align with our theme. Specifically, programs that touch on at least one of the following concepts: 
Unplug: 
Unplugging refers to disconnecting yourself from things that drain you. In order to recharge the power drained from our everyday obstacles, we should first learn to disconnect and free ourselves from barriers that keep our energy from flowing. How will you make yourself a priority? What steps will you take to manage your well-being? What does doing this successfully look like?
Power On: 
Powering on is all about finding where you get your 'charge' from. Powering on goes in tandem with action items and putting our energy towards the things we care about, like our hobbies, passions, and leadership development. Where does your power come from and what motivates you? Where will you focus your power? 
Reconnect: 
To reconnect means to welcome back into your life the things that we may have left behind pre-pandemic. In the ultimate goal of reconnecting, we are utilizing the energy from our sources to rebuild relationships that stimulate a consciousness of service and leadership, producing an environment of unity and advocacy! What have you been keeping on hold? What have you learned about yourself throughout this process? 
Who can I connect with to learn more? 
This year, our Conference Programming Chair is Metyia Phillips! You can reach Metyia by emailing us at usfcaslc@gmail.com. You can also reach out to one of the Conference Advisors, Bob Just (rejust@usfca.edu) or Adrian Carrillo (ajcarrillo4@dons.usfca.edu).
Other Frequently Asked Questions
Can I submit multiple programs? 
Yes. This year, we have 3 programming blocks, so the maximum time a person can present is 3 times. The committee will not accept more than 3 programs from a single presenter. 
should my program focus on 1 sub-theme or all 3? 
We recommend selecting just 1 sub-theme to focus your program proposal around, however you can select up to 2. Naturally, there is a connection between all 3! Our goal is to give audience members a fast way of understanding the focus of each program they are considering before deciding which program to attend. 
Who can submit a program? 
Technically, ANYONE! So long as you are interested and connected with student leadership at the collegiate level. While we tend to prefer presenters from within the USF community, we are ultimately looking for the best possible program. So, give us your best shot! We can't wait to review your proposal :D 
co-presenters... do I have to have one? 
No. If you want to present on your own, do it! We recommend co-presenting to help alleviate the speaking time and to offer another perspective on the topic you are exploring. There is no advantage/disadvantage to having a co-presenter from the standpoint of program selection by the 2021 Planning Team. 
do i need prior presentation experience in order to be accepted? 
No. Our committee accepts programs that are most relevant to our theme and demonstrate preparation through a detailed program outline (including time estimates, engagement techniques, and brief explanations).