Present at our Conference!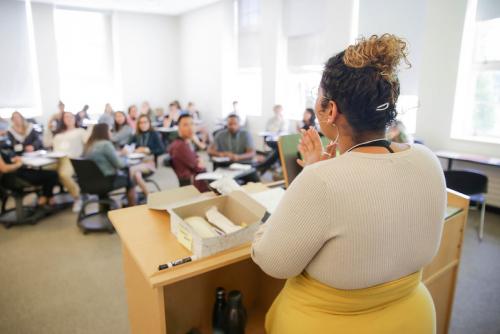 What is a Program?
A program is a workshop, lecture, roundtable, panel, or seminar that is designed by you to offer to people attending the conference around a subject matter you are passionate and/or experienced with. This year, we are seeking program proposals in 25 or 45-minute formats that focus on our theme. If you're new to presenting, you may want to do a shorter program for 25 minutes! If you've presented a workshop before, reach for 45-minutes. Either way, design your program around the time you know you need. 
To learn more about styles and varieties of programs, check out the Program Proposal Packet below for examples from previous conferences. 
What type of programs can I submit? 
This year, each program offering falls into at least one of three categories, as outlined below. These programs are designed to help us address our conference theme while promoting leadership development and growth within and among our attendees. 
Our three program categories for this year's conference are: 
Unplug: 
Unplugging refers to disconnecting yourself from things that drain you. In order to recharge the power drained from our everyday obstacles, we should first learn to disconnect and free ourselves from barriers that keep our energy from flowing. How will you make yourself a priority? What steps will you take to manage your well-being? What does doing this successfully look like?
Power On: 
Powering on is all about finding where you get your 'charge' from. Powering on goes in tandem with action items and putting our energy towards the things we care about, like our hobbies, passions, and leadership development. Where does your power come from and what motivates you? Where will you focus your power? 
Reconnect: 
To reconnect means to welcome back into your life the things that we may have left behind pre-pandemic. In the ultimate goal of reconnecting, we are utilizing the energy from our sources to rebuild relationships that stimulate a consciousness of service and leadership, producing an environment of unity and advocacy! What have you been keeping on hold? What have you learned about yourself throughout this process? 
Who can I connect with to learn more? 
This year, our Conference Programming Chair is Metyia Phillips! You can reach Metyia by emailing us at usfcaslc@gmail.com. You can also reach out to one of the Conference Advisors, Bob Just (rejust@usfca.edu) or Adrian Carrillo (ajcarrillo4@dons.usfca.edu).