Echo360 Lecture Capture
Note about the Retirement of Echo360
USF will retire Echo360 on June 1, 2023 and we will transition to our new lecture capture and video platform Panopto, the leading vendor for education. In preparation for the change, please help us save time and money by deleting any unneeded or outdated recordings on Echo360. Any remaining video captures on Echo360 will be migrated to Panopto. 
As a result of this change, the following deadlines will be implemented:
March 15: Echo360 classroom recordings, Echo360 desktop recordings (Universal Capture) and uploads (Zoom recordings and others) will not be automatically migrated to Panopto
June 1: Echo360 is no longer accessible to the USF community
Start using Panopto today. To prepare for this change,  register for a Panopto training.
Educational Technology Services (ETS) provides two solutions for recording classroom instruction and large events on campus: Echo360 Lecture Capture and Media Services videographers.
Visit this page to learn more about Media Services
Echo360 Lecture Capture
Echo360 is a set of technologies available in select classrooms. It is an automated system that records all computer presentations as well as the AV from microphones and a video camera. The finished product can be streamed to any computer or mobile device, posted automatically to your Canvas course, and easily shared with others.
| | |
| --- | --- |
| LCSI G12, 103, 209, 210, 303 | Malloy Hall LL4 |
| Cowell 312 | Gleeson Library 139, 213, 220 |
| ED 010, 201 | Downtown Campus 154, 155, 156, 450, 451, 452, 453, 527 , 529 |
| Harney G56 | School of Law: Kendrick 100 |
| Lone Mountain 244A, 351 |   |
If you are scheduled to teach in an Echo360 classroom, you can request a recording on the request form.
Echo360 Active Learning Platform
Once you have captured your content, you can share, distribute, and manage that content through the Echo360 Active Learning Platform.
Echo360 Gated Polling
This feature allows the instructor to insert polls into Echo360 videos that can be used as knowledge checks and to increase engagement with the content.  Viewers will be required to submit an answer before moving on with the video.  Echo360 video Polling is meant to be used in a Canvas course where you can view the poll analytics to check to see how well the class understands the lecture material.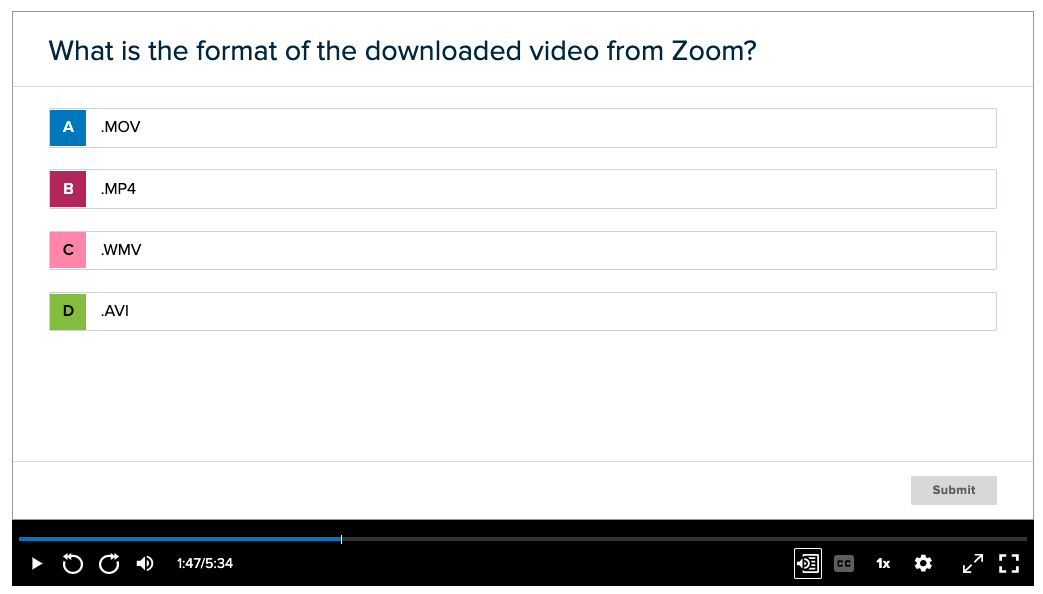 Check out the documentation on how to create and use Echo360 Gated Polling.
Echo360 Assignments
You can now create Canvas assignments where students can record using Echo360 Universal capture or upload existing video they have created on their own and submit through the Echo360 Assignment tool.  The videos show in the Canvas Speedgrader to view, grade and provide feedback, all in the Speedgrader interface.
For Instructors:
For Students:
Frequently Asked Questions
Visit this page to get your Echo360 questions answered
Accessibility Statement