Zoom

Zoom is a cloud-based conferencing solution that provides both video conferencing and screen share capabilities. All USF faculty, staff and students have access to the university's licensed account and to Zoom's great video conferencing features.  
Features:
Real-time online conferencing to support meetings, teaching, and learning.
Present synchronous (live) or asynchronous (pre-recorded) lectures.   
Faculty:  Virtual office hours, online tutoring, and advising of students.
Meet with up to 300 participants online at the same time.
Assign participants to collaborate in groups online.
Share presentations and demonstrations to a remote audience.
Live transcription (Auto closed captioning) for meetings
Introduce guest speakers from remote locations.
Students:  Host group sessions for project work and keeping connected
Getting Started
Downloading the software
Zoom is a software based video conferencing system; if you don't have the software installed, download a copy of the software from the USF:   Zoom Download page.
Activating and authenticating into your account
You can sign in to the USF Zoom account site to access your settings, profile, scheduled meetings and cloud recordings:  https://usfca.zoom.us/
To access the features in meetings, it is important to sign into the software app through Single Sign On (SSO).  The instructions can be found in the sign in guide.

How do I use Zoom?
New Update:  Immersive View
Recreate the feel of your class or conference room by placing up to 25 video participants onto a single virtual background. Participants are automatically placed onto provided scenes and the host can adjust the arrangements as needed. The host can also use their own custom background for a unique scene. While this does not require use of the Virtual Background feature, it does work best when everyone has this functionality.  Check out the tutorial for using Immersive View during meetings and Please note that this requires the Zoom app version to be 5.63 or later,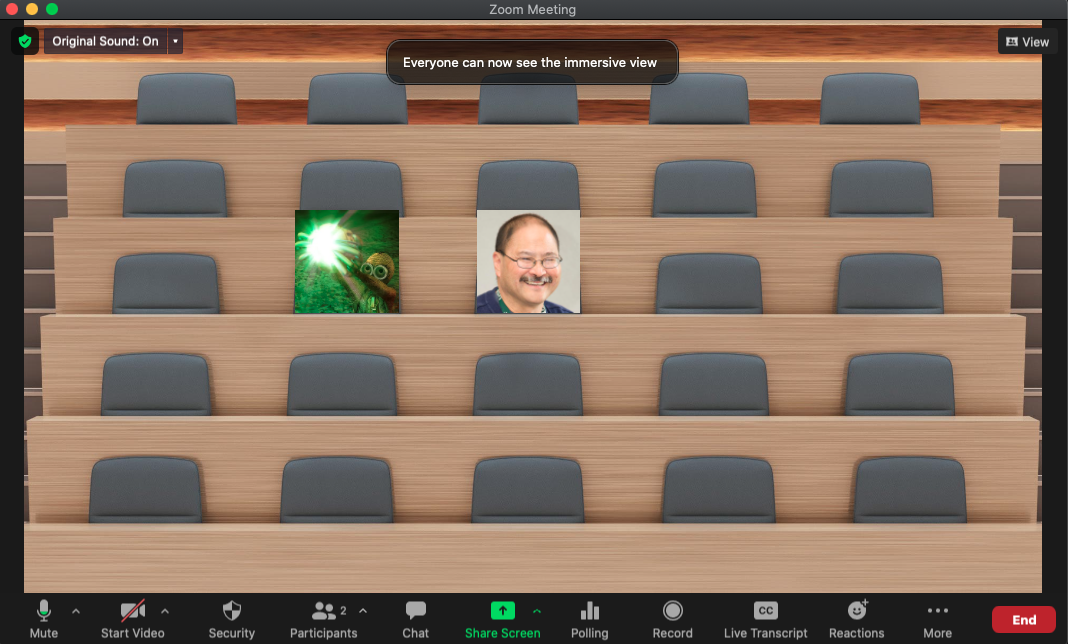 Participants joining before the host:  One new feature is changing the ability for participants can enter a meeting before the host.  Instead of allowing participants to enter a meeting anytime, you can set a time period before the meeting that the participants can enter.  Sign into your USF Zoom account and click on Settings.  In the scheduling settings, check the option Participants can Join...and select the default time before the meeting that people can join.  You can always adjust the time when you schedule the meeting.

Scheduling Zoom Events in Google Calendar
Scheduling Class/Office Hour Meetings in Canvas
How to Create Attendance Report in Zoom
Enabling Live Transcription (Auto Closed Captioning) for Zoom meetings
Recording Presentations in Zoom
Recording Presentations in Zoom with Transcription
Archiving Zoom recordings to Echo360

Student Resources
Remember that you too have access to the full USF Zoom license and to all of the tools for hosting your own meetings!  Here are some tutorials and documentation to help you get started.
Activating and Authenticating into Your Account
It is important to sign in properly into the Zoom software app on your computer or mobile device both to host your own meetings with the licensed account and to join sessions that require an authenticated account to enter or participate.  Here is the Student Zoom guide that shows the process.
Tutorials regarding setup, scheduling, recording and cloud recording access:
Recording a Presentation with Transcription in Zoom
Accessing Restricted Cloud Recordings

Zoom equipment for Faculty:  Remote and HyFlex instruction 
This list comprises a base set of recommended equipment for the Bring Your Own Device or BYOD for faculty who are not assigned to the new HyFlex classrooms and need to bring in and set up webcams and microphones for class sessions.
Equipment for Faculty Instruction

Zoom Best Practices and Etiquette
Video Communications Best Practices Guide
Online Office Hours through Zoom
Zoom for Live Events and the Classroom

Securing Zoom Meetings
Best Practices for Securing Zoom Meetings
USF Knowledge Base Article: Best Practices for Securing Zoom Meetings
USF Knowledge Base Article: COVID-19 Security Awareness

Zoom Webinar Feature
A Zoom Webinar allows you to broadcast a Zoom meeting for up to 3000 attendees.
Learn More about Zoom Webinars
Register for Zoom Webinar Training
(select option 3: Communication and Collaboration)
---
University of San Francisco Customer Testimonial