Telepresence Meeting Spaces
As staff, faculty, and students return to campus it is important to prepare our conference and meeting spaces with telepresence technology. It is likely that most meetings in the future will have attendees both in person and off-site.
Toward supporting a hybrid meeting environment, ETS has been upgrading technology in many conference rooms, meeting spaces, and offices with a Zoom Room solution.
.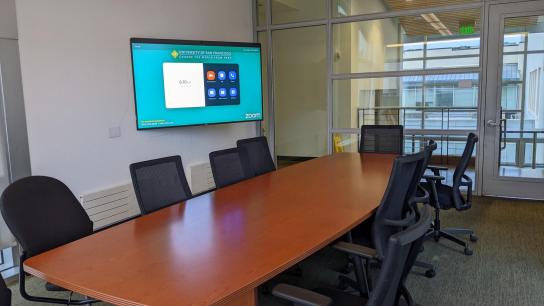 Telepresence Meeting and Conference Rooms
Our Telepresence spaces will allow users to join Zoom meetings utilizing an all-in-one video solution created by DTEN.
DTEN Zoom Rooms include:
A high-resolution camera pointed at the meeting table 
16 microphone array 
Ability to share images on MacOS and Windows laptops wirelessly 
Touch screen display for control
Touch screen whiteboard and annotation functionality for both local and remote attendees 
75" or 55" display 
Zoom Room Locations Reservable through EMS
Education 105
Kalmanovitz 142, 165, 209, 265, 309, 365, 399, and 499
Lone Mountain Rossi 322 and 419
Malloy Hall 405
San Francisco Downtown 504
University Center 402 and 502
Support Resources