ASUSF Senate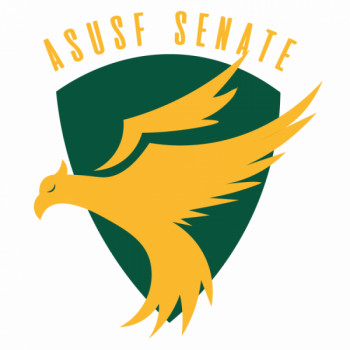 Unite and Ignite
ASUSF Senate strives to ensure that every voice, concern and suggestion to improve USF is heard by addressing the needs of our constituents through compromise and cooperation.
Join the Wednesday Senate Meeting on Zoom
Get the password for the meeting or office hours by sending a Direct Message to @asusf_senate on Instagram or reaching out to your senator.
Apply for the Student at Large Position(s) or Open Senator positions
Apply for one of the Student at Large positions and craft your position! or apply for one of your open Senator positions! Priority deadline for At Large positions is October 2, 2020. Open Positions will be filled on a rolling basis.
Open Positions:
Transfer Representative
Gender and Sexual Diversity Representative
Students with Disabilities Representative
School of Nursing and Health Professions Representative
At Large Representative (1)
Join a Senate Committee or Apply for an open position today!
Finance: M & F 1:00pm - 2:00 pm
Internal Affairs: T 4:30pm - 5:30 pm 
Marketing & Communications: R 4:30pm - 5:30pm
Advocacy: R 5:30pm - 6:30pm
ASUSF Town Halls 
We want to hear from you! ASUSF is introducing town halls semesterly this year to give you the USF community a better insight of what ASUSF Senate is working on as well as hearing from the administration about different issues on campus. Please join us so that we can create the change that we want to see here at USF.
Summer Town Hall: July 10th | 1:00-2:30 p.m. | Zoom
To receive a link to the event Pre-Registration is required.
ASUSF Senate will be hosting a special town hall to answer questions regarding upcoming changes made to fall semester for students. We hope you can join us and speakers from the USF administration to learn more information about the upcoming fall.

View recorded Summer Town Hall
Fall Town Hall: October 28th | 5:00 p.m - 7:00 p.m. 
Topics: Spring Semester Update
Receive a link to the event by registering.
In hopes to provide information and insight, ASUSF Senate hosted a town hall to answer questions and concerns of the upcoming spring semester. 

View recorded Fall Town Hall
Spring Town Hall: March 3rd | 5:00 p.m - 7:00 p.m. 
Topics: TBD