Staff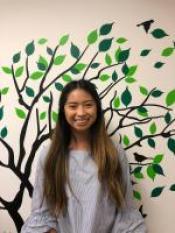 Janel Cuevas 
Janel is currently a junior at the University of SanFrancisco, with a psychology major and neuroscience minor.  She is interested in child development and cognitive psychology, specifically focusing on how the two fields of psychology integrate with one another. Once Janel achieves her BA, she plans on pursing graduate school with a focus in either neuroscience or cognitive psychology. In her free time, Janel teaches indoor cycle classes on campus and plays club rugby for the university.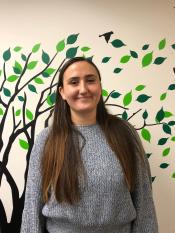 Annabelle Farina
Annabelle is currently a third-year undergraduate student pursuing her BA in Psychology with a minor in Neuroscience, at the University of San Francisco. She plans to continue her schooling and pursue a career in the medical field after graduating. Annabelle is particularly interested in behavioral health in children, as well as various aspects of child development and child maltreatment. When she is not working or studying you will probably find her with friends adventuring the city, hiking, cooking, or practicing photography.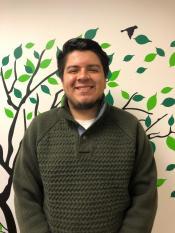 Santiago Gonzalez 
Santiago is from Lindsay, CA, and is a senior majoring in Psychology at the University of San Francisco. He is in the Dual Degree in Teacher Preparation program at the School of Education, earning his B.A. degree in Psychology, M.A. degree in Teaching, and single-subject teaching credential at the same time. Santiago is interested in working in education, specifically in School Psychology. He plans to pursue a Ph.D in School Psychology and conduct research in Child Development or in Learning & Memory. Outside of academics, Santiago enjoys going on motorcycle road trips with his friends and exploring nature.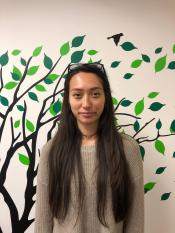 Ariel Kasoff
Ariel is a junior studying to receive a BA in Psychology, and a double minor in Philosophy and Biochemistry at the University of San Francisco. She is currently on the pre-med track and has a strong interest in a holistic approach to health, combining both physiological and cognitive aspects. Through research, she hopes to unveil the complexity of the human psyche by understanding human behavior and the individuals reasoning behind it.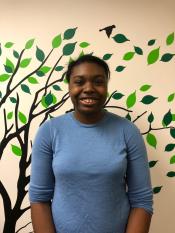 Makeda Mayes
Makeda Mayes is a Senior student of Psychology at the University of San Francisco. She is primarily interested in family structures and the development of relationships and values throughout individual's lives. She is currently in the midst of conducting her Senior Thesis centered on sibling relationship and support systems within the family. As for the future, she hopes to work as a research assistant before ultimately getting her PhD in either Child Development or Clinical Psychology. Outside of the lab, Makeda enjoys singing at karaoke, watching K-dramas, and taking long bus rides.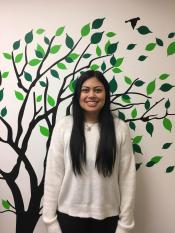 Sabrina Ortiz  
Sabrina is currently a sophomore at the University of San Francisco majoring in Psychology. She is interested in childhood development and the way a child's cultural background can affect their psychosocial adjustment. She is also interested in the intersection of psychology and public education. In the future, she plans to attend graduate school to study Clinical Psychology. In her free time, Sabrina volunteers as a tutor for elementary school children and provides peer support through an LGBT hotline.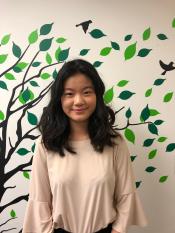 Lily Samiee
Lily is graduating in May 2019 with her BA in psychology at the University of San Francisco. She is interested in various aspects of child development, family dynamics, and clinical psychology. More specifically, Lily is interested in family dynamics, and one's social environment, and their effect on the etiology of mental disorders. Currently she's working on her Senior Honors Thesis, examining the role of cultural orientation on mental health stigma. She plans get her PhD in Clinical Psychology. Outside of Psychology, Lily enjoys hiking, reading, movies, and museums.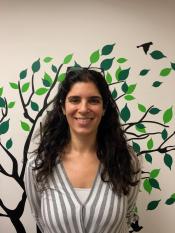 Professor Aline Hitti
Aline is the director and supervisor of the SeaRCH lab group. Before coming to University of San Francisco, Aline was a visiting scholar at the Department of Psychology, Tulane University in New Orleans where she collaborated on several studies examining gender stereotypes and the psychological well-being of marginalized youth. Aline Hitti received her PhD from the University of Maryland College of Education in human development and quantitative methodology. Her research focuses on children's and adolescents' social cognitive and moral development in intergroup contexts. This research includes examining fairness orientations, social exclusion in childhood and adolescence, conceptions of social inequalities, intergroup attitudes, the role of culture on development, and children's psychological well-being. She has authored and co-authored several chapters on social exclusion and intergroup peer relationships, highlighting how fairness and justice is applied in these social contexts and across development. Her research has been funded by grants from the Society for Research on Adolescence (SRA) and the Society for the Psychological Study of Social Issues (SPSSI). She has also collaborated on research funded by the National Science Foundation and the Department of Education. Publications of her work can be found in journals, such as, Child Development, Social Development, Journal of Educational Psychology and Developmental Psychology. At USF Aline teaches several courses in the psychology department, including Child Development and an Advanced Research Topic course on Social Cognitive and Moral Development.
Previous Research Assistants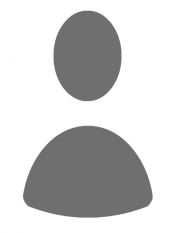 Adriana Alvarez
Adriana is currently a Junior at the University of San Francisco. She is pursuing a major in Psychology and a minor in Spanish. She is interested in social and cognitive psychology, particularly within children. Along with being a student, she also works as a behavior therapist for children with autism. In her free time, Adriana enjoys spending time with her family, hiking, and cooking.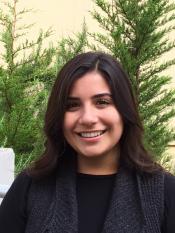 Angelica Bueno
Angelica is currently a junior at the University of San Francisco. She is a psychology major with a double minor in health studies and child and youth studies. Angelica is interested studying the clinical consequences of child maltreatment, as well as possible treatments and therapies. She loves trying new restaurants, going to concerts, and spending time with family and friends. After graduating from USF, Angelica plans to attend graduate school to further her goal of becoming a professional counselor or therapist.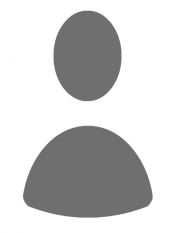 Dakota Corrales 
Dakota is a graduate of University of San Francisco with her bachelor;s in Psychology. She is interested in the effects of perceived prejudice and social standing on childhood development.  She is particularly interested in the role of prejudice and social standing in regard to the legal system. She plans to pursue a master's degree in clinical psychology with a focus on forensic psychology or go to law school. In her free time, she likes to play guitar, take hikes, and spend time with family and friends.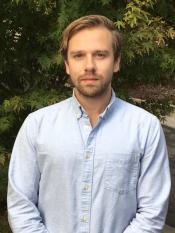 Valentin Gulyas
Valentin is from Stockholm, Sweden. He is receiving his bachelor's in psychology from University of San Francisco in December of 2017. He is particularly interested in children's moral development. Valentin is also interested in the influence of parents and parenting practices on children's development. He is interested in pursuing a PhD in Developmental Psychology. Valentin is trilingual, speaking Swedish, Hungarian and English. In his free time, he likes to play basketball, piano, and cook.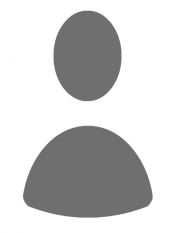 Emmelyn Hernandez
Emmelyn is a senior studying psychology with a minor in English and will graduate in May of 2018 at the University of San Francisco with a BA. She is interested in Clinical psychology and social work, particularly working with clients from a low socioeconomic background and increasing awareness of the importance of mental health. She is interested in attending graduate school for either a MWS or MFT and becoming licensed to practice therapy, in hopes of opening a private practice one day. In her free time, Emmelyn enjoys writing, drawing, playing guitar, and playing video games.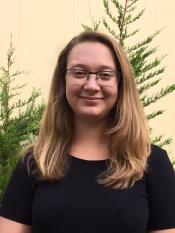 Jacquelyn Glidden
Jacquelyn received her bachelor's in neuroscience from Bucknell University and her master's in developmental psychology from San Francisco State. She is interested in socio-emotional development from infancy through childhood. She loves working with the children and families that participate in the lab studies. Outside of the lab, Jacquelyn is a lecturer at San Francisco State and teaches writing skills at a local elementary school. She hopes to one day get her PhD in developmental psychology and become a professor.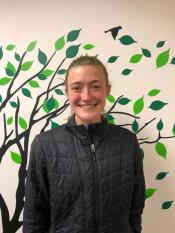 Daisy Payton
Daisy is currently a junior at the University of San Francisco, majoring in Psychology and minoring in Neuroscience. She is interested in forensic psychology, social justice, and the prison system. She is particularly driven to working with juvenile inmates and inmates from low socioeconomic backgrounds. After she graduates, she hopes to pursue a master's in forensic psychology, a PsyD in Clinical psychology, and to attend law school. Daisy is an avid cook and spends all her free time with her dog, Totty.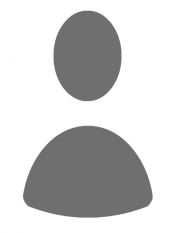 Eleanor Sammons
Eleanor is currently a senior at the University of San Francisco, graduating with her BA in the spring of 2018. She's a psychology major who has earned her AA in Psychology at City College of San Francisco. Eleanor has a special interest in pediatric behavioral health, specifically working with youth from underserved populations. She will attend graduate school in the fall of 2018, allowing her to pursue a career as a clinical psychologist focused on integrated mental health care for children and families in primary care, and coping with chronic illness and trauma in hospital settings. Beyond psychology, Eleanor's interests include music, photography, travel and spending time with her family.