ASUSF Senate Executive Board
Meet the 2023–24 ASUSF Senate Executive Board
There are five executive officers that make up the executive board of ASUSF Senate. We are here to serve you!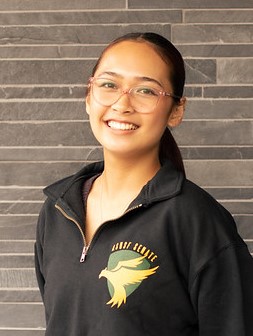 ASUSF President
Nadine Tabucao (she/her)
Major: Economics 
Minor: Computer Science 
Hometown: San Bruno, CA
Email: sntabucao@dons.usfca.edu
Class of 2025
Officer Bio:
Nadine joined ASUSF Senate to uplift and connect the USF community and has served as the VP of Finance during the 2022-23 school year. Outside of Senate, she is involved in Kasamahan, USF's Fil-Am student organization. For fun, she enjoys video editing, playing volleyball, and discovering new restaurants within the city. As she pursues her education in economics, she wishes to analyze how economies and finance influence our communities, in hopes of securing a career that enables her to push for equitable change among those that are underrepresented.
Fall Office Hours:
Monday: 1-4:30 pm
Tuesday: 12-2 pm
Wednesday: 1-5 pm
Thursday: 10 am-2 pm
Friday: 1-3 pm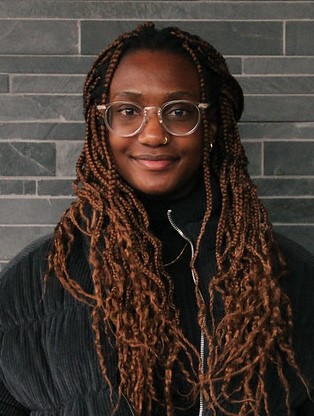 ASUSF Vice President of Internal Affairs
Kiannah-Nicole Karani (she/her)
Major: Environmental Science 
Minor: Architecture 
Hometown: Nairobi, Kenya 
Email: kckarani@dons.usfca.edu 
Class of 2026
Officer Bio: 
Kiannah-Nicole considers herself a thrill seeker and is always willing to try something new at least once. She enjoys reading, hiking, and trying new recipes. Kiannah-Nicole intends to strengthen the bonds within the ASUSF senate to motivate the desire to improve USF via all means possible. One of Kiannah-Nicole's goals is to contribute to building a stronger campus community where everyone can speak up, feel safe, and be seen. She hopes to accomplish this through the Senate and looks forward to working with everyone!
Fall Office Hours: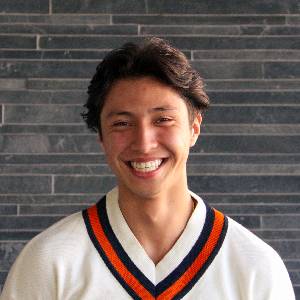 ASUSF Vice President of Finance
Leonardo Yniguez (he/him)
Major: Finance 
Minor: Computer Science 
Hometown: San Diego, CA
Email: lkyniguez@dons.usfca.edu
Class of 2024
Officer Bio:
I am committed to maximizing the returns on the money that each undergraduate student spends on enrollment. My committee will adhere to the best interest of those who pay the Student Activity Fee. Regardless of whether they are involved in student orgs and events, every decision has to benefit campus life. I want to allocate resources to those who need it and will experience value from it. Our Finance Committee is motivated by the students that empower it, to give that power back.
Fall Office Hours:
T: 12-2 pm; 3:30-4:30 pm
TH: 12-4 pm
ASUSF Vice President of Marketing & Communications
Zoe Wang (she/her)
Major: Psychology
Minor: Biology
Hometown: Seattle, WA
Email: zlwang@dons.usfca.edu
Class of 2025
Officer Bio:
Zoe is dedicated to connecting ASUSF to the broader USFCA community, she is dedicated to working with students and their organizations so that their wishes are heard and their agendas may be promoted. Zoe enjoys reading, cooking and taking long walks through Golden Gate Park. After graduation, Zoe hopes to pursue her phD in clinical psychology and work in trauma counseling with youth and children.
Fall Office Hours:
Tuesday: 4:30-6:30 pm
Wednesday: 3-4 pm
Friday: 9 am-12 pm and 3:30-5 pm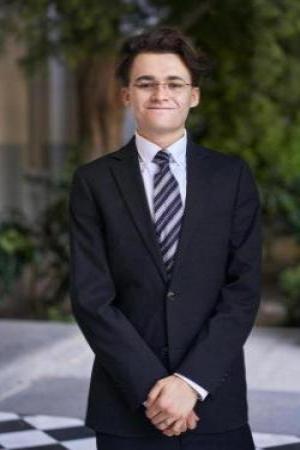 ASUSF Vice President of Advocacy
Forrest Cameron (he/him)
Major: Politics
Minor: Philosophy 
Hometown: Philadelphia, PA
Email: fhcameron@dons.usfca.edu 
Class of 2024
Officer Bio: 
During the midst of the Covid-19 pandemic just months after missing his senior prom and graduation ceremony, Forrest Cameron made the perilous journey across the United States to find a new home in the beautiful city of San Francisco. Finding himself in a small studio apartment, Forrest felt cramped and itching for something new. As soon as the first in-person semester returning from Covid began, he immediately saw the difficulty in cultivating meaningful relationships and establishing a real connection with the beautiful campus before him, thus setting him on his journey to bring students on and off-campus together by joining ASUSF. Having spent his time at USF studying the intricacies of Politics and Philosophy, being on the e-board of over three student organizations, working on two different political campaigns, and working within San Francisco City Hall for current Board of Supervisor President, District 3 Supervisor Aaron Peskin, Forrest has worked tirelessly to ensure no job is left undone and the people of his community have been heard and fairly represented. Aside from being a little stinker, Forrest loves to go on long hikes, have deep conversations, and turn the town upside down.
Fall Office Hours:
Monday: 10-11 am; 3:30-5:45 pm
Tuesday: 11:30 am-2:30 pm
Thursday: 11:30 am-2:30 pm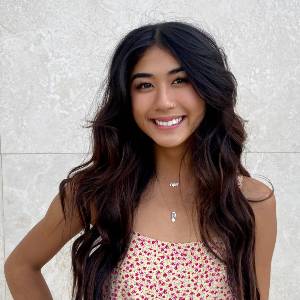 Student Government Assistant
Elysia Teruya (she/her)
Major: Biology
Hometown: South Lake Tahoe, NV
Email: erteruya@dons.usfca.edu
Class of 2025
Fall Office Hours: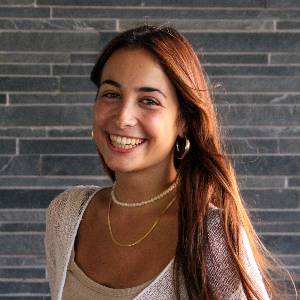 Student Government Finance Assistant
Sofia Sarwat Casanova (she/her)
Major: Finance & Business Analytics
Hometown: Madrid, Spain
Email: ssarwatcasanova@dons.usfca.edu
Class of 2024
Fall Office Hours: