Resources
Tomasello-Millard BASE Economic Hardship Fund  
The BASE (Black Achievement Success and Engagement) Economic Hardship Fund is available to USF undergraduate and graduate students who are unable to meet immediate, essential expenses due to a temporary financial hardship that may jeopardize their health, safety, academic performance and/or ability to stay enrolled at USF. Funds may be used for such necessities as rent, tuition, transportation home, etc. These funds are not intended to be used for routine expenses nor as a consistent supplement to fund the student's education. Funds cannot be used for any other unintended use besides the item(s) requested. If approved, all funds must be utilized in the manner originally agreed upon by the applicant and review committee.

Eligibility Requirements:
1. The applicant must be currently enrolled in the term of request (undergraduate or graduate) at the University of San Francisco and have a temporary economic hardship.
2. Other possible resources such as financial aid through USF or federal means must have been considered and determined to be not available or insufficient.
3. The applicant must be able to provide sufficient evidence or documentation of economic hardship.
---
Vizuri Kabisa: Black Graduation
Tuesday, May 17, 2022  |  6–8:30 p.m.  |  St. Ignatius Church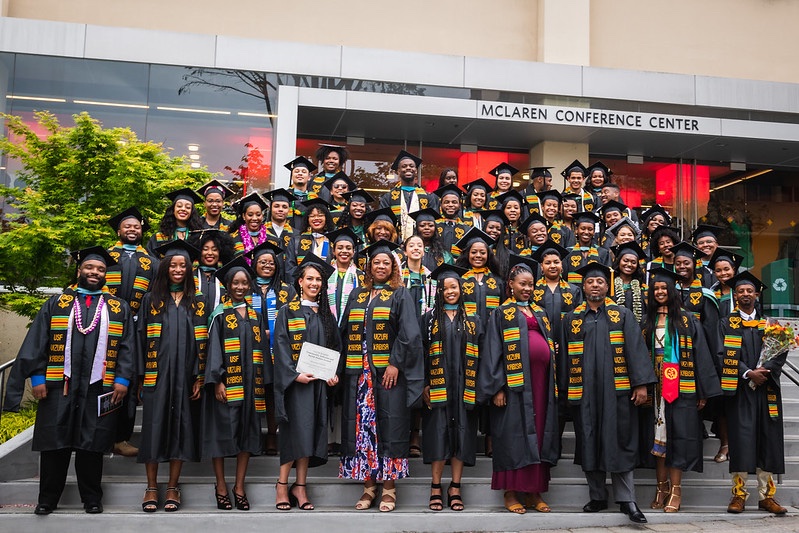 Vizuri Kabisa is Swahili for "excellence." Vizuri Kabisa is a recognition event that honors the academic and leadership achievements of graduating students who identify as Black, African, African American, and/or Multiracial. The spring 2022 Vizuri Kabisa Graduation Ceremony will be an in-person ceremony.
Registration Deadline:
Thursday, March 31, 2022 at 11:59 p.m.
There is a one-time $25 registration fee for participating in the End of the Year Ceremonies as a graduating student.
​Interested in multiple ceremonies? This one fee covers participation and a stole in ALL ceremonies that you are interested in participating in. If you plan to participate in multiple ceremonies, please register and pay for one ceremony, then write to culturalcenters@usfca.edu to request a unique code  to register for no additional charge for your additional ceremonies.
Need a fee waiver? We understand that this $25 fee may be difficult for some students to pay at this time. The Cultural Centers are offering a LIMITED number of fee waivers based on financial hardship. If this is something you are interested in, please write to culturalcenters@usfca.edu  to request a unique code prior to completing the form. Fee waivers are available and awarded based on the time they are received, and we recommend writing to request one early.
FAQ:
https://myusf.usfca.edu/cultural-centers/eyc 
---
The Kijiji Project seeks to enhance the educational and social experience of Black identified students at the University by connecting new students with thriving returning students to foster healthy and genuine relationships. If interested, please sign up.
Academic Enrichment
Leadership
Living Learning Communities
Community Engagement
University Clubs/Organizations
Undergraduate Student Organizations

Alpha Kappa Alpha
Alpha Phi Alpha
African Students Association
Black Student Union
Black Nursing Student Association
Black Business Association
Black Rainbow Party
Brother Connection
Sister Connection